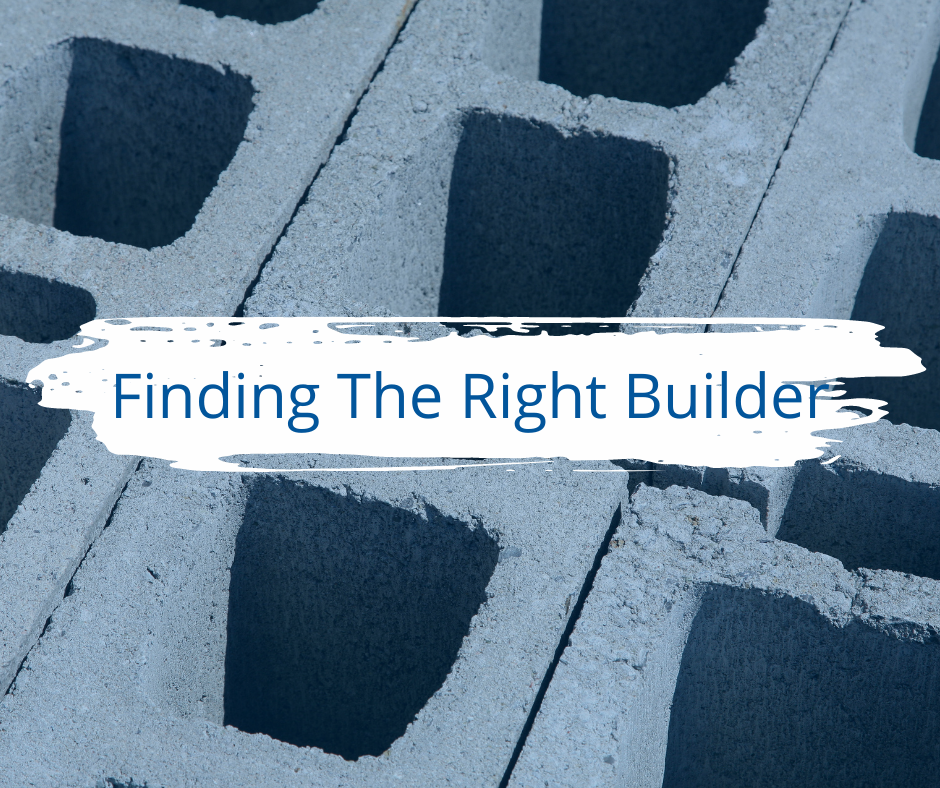 Finding The Right Builder can be tough, and a Google search for custom home builders can be overwhelming! While there are many eager home builders, unfortunately not all of them are qualified.
Building your custom waterfront home along the Gulf Beaches is no easy task! You want to work with a team that will build a home that reflects your style while meeting the needs of the unique waterfront conditions.
Here are some warning signs that the builder might not be your best choice:
No Listening
A successful custom waterfront home is not achieved without input from the homeowner. For the home to be exactly what you need, your builder must listen to and value your input.
No Digital Footprint
Do they have a website? Are they active on social media? These are helpful tools you can use to gauge the builder's competency. If there are no photos of previous work, how can you tell what they are capable of?
No Permits
When building a custom waterfront home, pulling permits with the local municipality is a must! This ensures that building codes are adhered to, and the home can eventually be approved by the inspector. A contractor that ignores permits could be cutting more corners than you know!
No Experience
While this may be your first time building a custom waterfront home, it should not be your contractor's first rodeo. There are many requirements to build a waterfront home, and a team with experience can deliver the best results.
No Client Feedback
A good builder doesn't have to tell you, their clients will! If your contractor doesn't have anyone to vouch for them, can you really trust they have what it takes to build your custom waterfront home? Be sure your builder has reputable referrals and good reviews from comparable projects.
No Problem-Solving
Things happen while building a custom home, and your builder should work proactively to find a solution if problems arise. A builder's poor planning can become your headache, so work with a team that has what it takes to get the job done.
At Lubke, we value your opinion. You can find testimonials from our clients on our Media page, and if you follow us on social media, you can see what we're up to! We've built many custom waterfront homes in the Tampa Bay area, and our team of experienced professionals is ready to get started on your custom waterfront home today!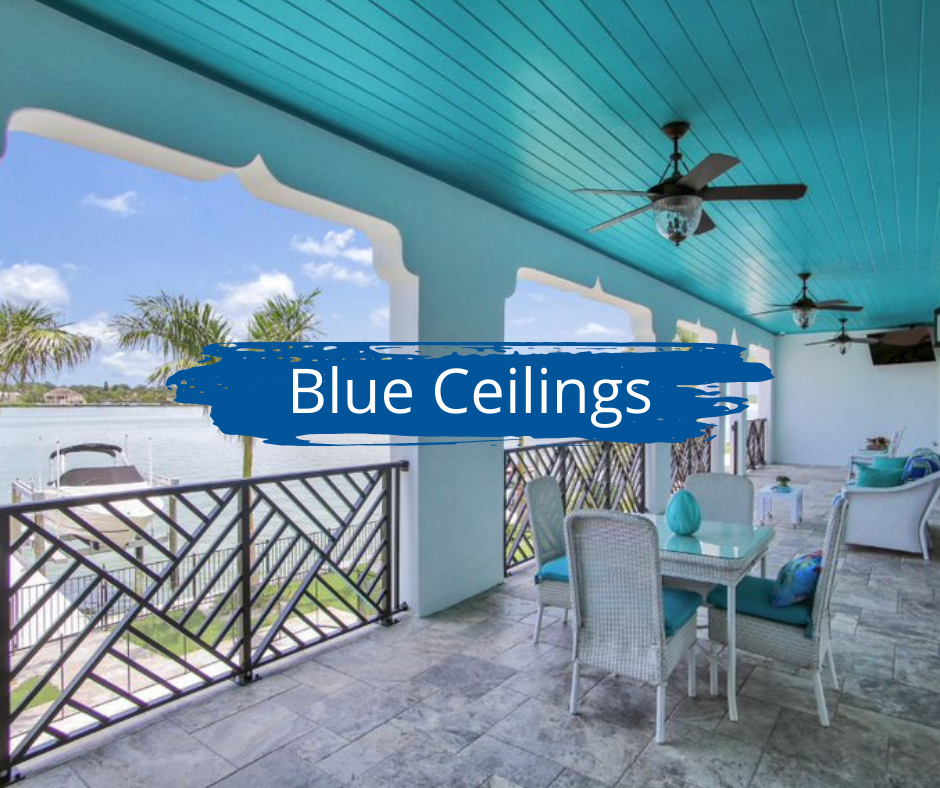 Have you ever seen a home with a light blue porch ceiling? Well, it might not just be for design aesthetic or curb appeal…
It's believed that certain insects and birds will avoid nesting near a light blue ceiling. Why? They think the ceiling is the sky! Really, though, the paint was historically mixed with lye, a natural insecticide. A lye-based paint would have made for an uninviting space for pests!
Along with the benefit of insect/pest repellant, light blue gives the impression of extended daylight.
"Haint Blue" is a popular shade in southern states like Georgia or South Carolina, originally believed to ward off ghosts or evil spirits. Many use it to this day to uphold the tradition.
While there may be benefits to using a blue paint on a porch ceiling, the choice may be more aesthetic than anything.
When designing your custom home, consider a blue ceiling to give your home a southern charm!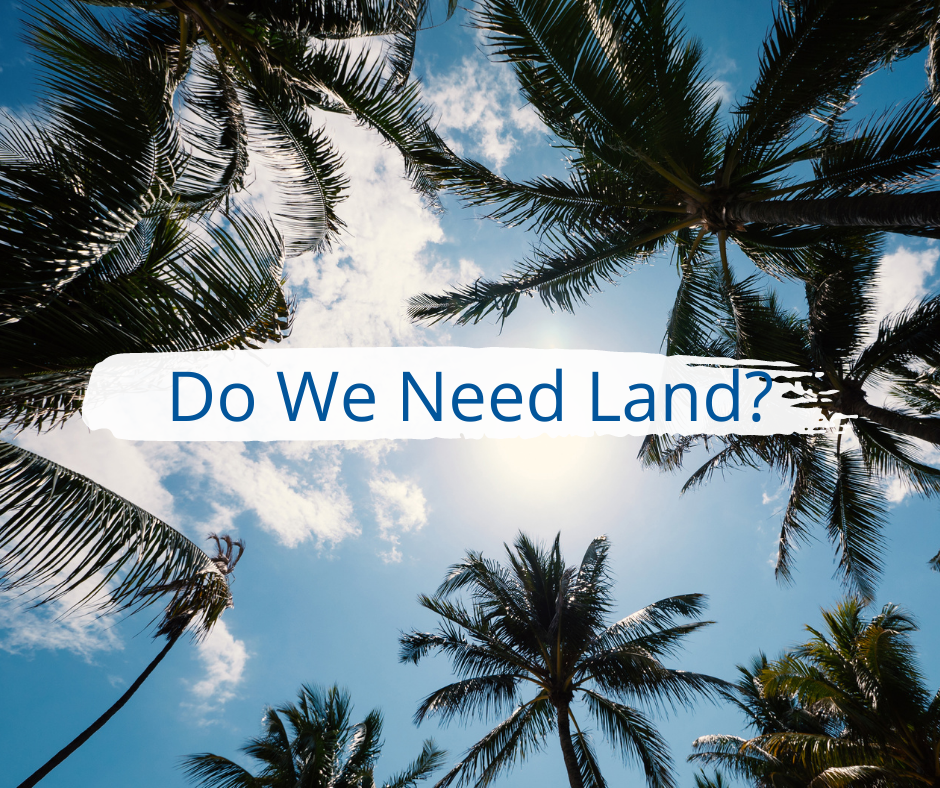 Many clients ask if they must provide the land for their build. While there is no right or wrong answer, here are a few ways you might approach the process: 
Selecting Your Builder before Purchasing a Lot: 
We are always keeping an eye on the market for lots in our area, and sometimes even have access to land acquisition before it becomes available for public purchase.  Our knowledge of the unique coastal environment and experience with local municipalities helps us determine which lots present the best conditions for your build.  
Purchasing a Lot before Selecting Your Builder: 
There may come a time when you find the perfect lot before you have chosen a builder. That is ok, too! If you purchase your lot first, you have the benefit of exploring the lot throughout the design process. Getting our team on-site to see what the lot has to offer is a great way to discuss ideas for your custom home. 
Designing Your Home First: 
Some might like to have their home designed before finding their lot. In this case, the home would be designed based on your vision and less on the lot placement. If this is the route you take, be ready to make design adjustments based on the environmental requirements of the lot you select. 
Regardless of the path you choose, Lubke Construction's team of experts is here to help you make your dream home a reality. We use online software to keep our clients updated on schedules, budgets, and selections throughout the home building process. We specialize in custom homes on piling foundation systems in Pinellas County. 
Whether you are looking for a lot, or already have one, let's talk about your vision!  
Contact Us today to schedule a consultation.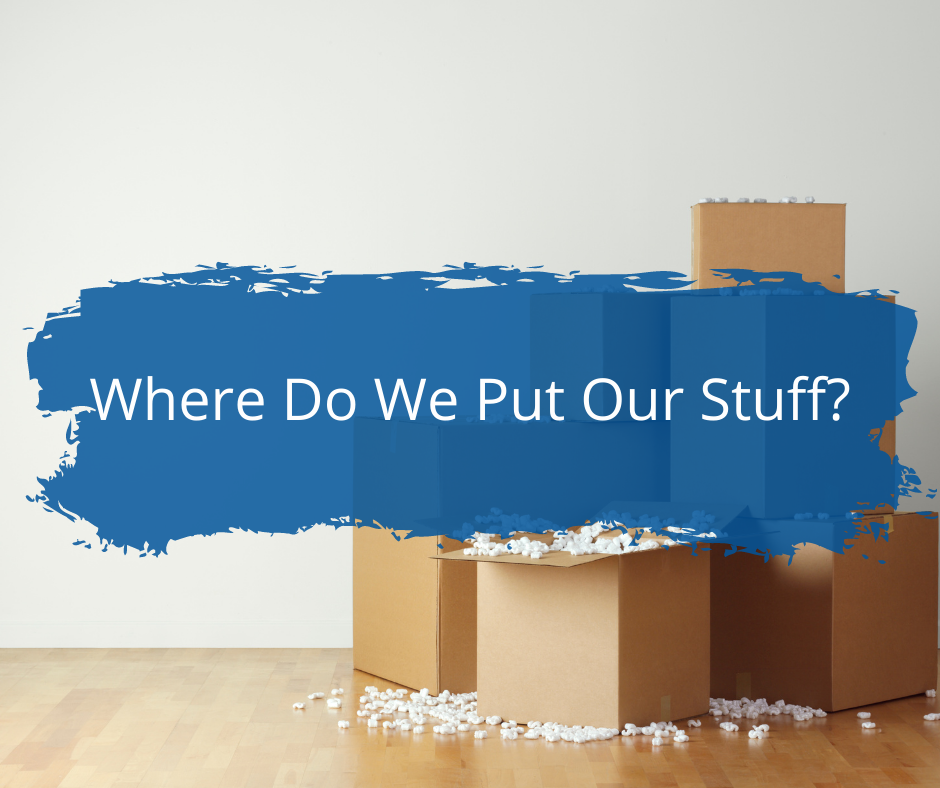 While building a new home is exciting, it can also take time! Add in the supply chain issues the industry has been facing, and it can lead to quite the delay. 
With the current "Seller's Market", many are accepting offers (at or above the asking price) almost immediately. While this is great for the seller, it does not solve the issue many will face when building a custom home.   
If your current home sells before your new one is ready, you may need to find a place to keep your things! The good news is, compared to the past, there are many options available to make your transition easier. 
You might want to consider a portable storage container. Most portable storage containers can be delivered directly to your home!  Once you have them loaded with your belongings, they can be transported to a storage facility before being delivered to your new home upon completion. 
So, if your current home sells much faster than you anticipated…or if supply chain issues are delaying your build, you need not worry! Simply look up portable storage containers in your area to find a solution near you.  
Then, you can find a fun Air BNB to stay in while you wait. Think of it as a staycation! 

With initiatives to "Go Green" stronger than ever, there has never been a better time to consider your home's energy efficiency! Being mindful of your energy consumption has many benefits.  Not only can you feel good about improving your environmental impact, but you can also save money too!  
We gathered a few Energy Saving Tips to keep in mind when dreaming up your custom home:
–Solar Panels: Here in the Sunshine State, we have plenty of sun to go around! Placing solar panels on your home can have a great impact on your cost of heating and cooling your home.   
–Insulation: Using the proper insulation can make or break the energy efficiency of a home. A home that is under-insulated will require the cooling system to work a lot harder to keep the temperature consistent.  Utilize a material with a high R-rating for the most efficient insulation to reduce energy loss and save on your home cooling costs! 
–Choose ENERGY STAR Appliances: The Environmental Protection Agency created the ENERGY STAR rating system in 1992.  Each product must be certified regarding quality, savings, and performance before it earns the ENERGY STAR label.  Choosing ENERGY STAR Appliances assures your larger appliances will not drain your home's system and inflate your energy bills. 
–Energy-Efficient Windows: Not only does the ENERGY STAR rating system apply to appliances, it is also used to rate the energy-efficiency windows! Using ENERGY STAR-rated windows will help keep your bills low with additional insulation, limiting heat transfer into your home.  
–On-Demand Water Heater: A traditional water heater can cost up to $350 a year to operate, while an on-demand water heater will cost closer to $220 a year. Over time, that difference will add up! An On-Demand Water Heater only heats the water when you need it, eliminating the need to pre-heat and store water at a higher temperature. 
–Metal Roofing: Roofs in Florida tend to take quite a beating from the sun.  Metal Roofs reflect heat away from the home, making them a great option to increase your home's energy efficiency. It has been reported that metal roofs can reflect as much as 83% of the sun's energy! 
–Natural Light: Whenever possible, rely on Natural Light! If your space does not have very many windows, you can utilize mirrors to help reflect the light throughout the area. 
Curious to learn more about the Energy-Efficient options we offer with our custom homes? Let's talk about your vision!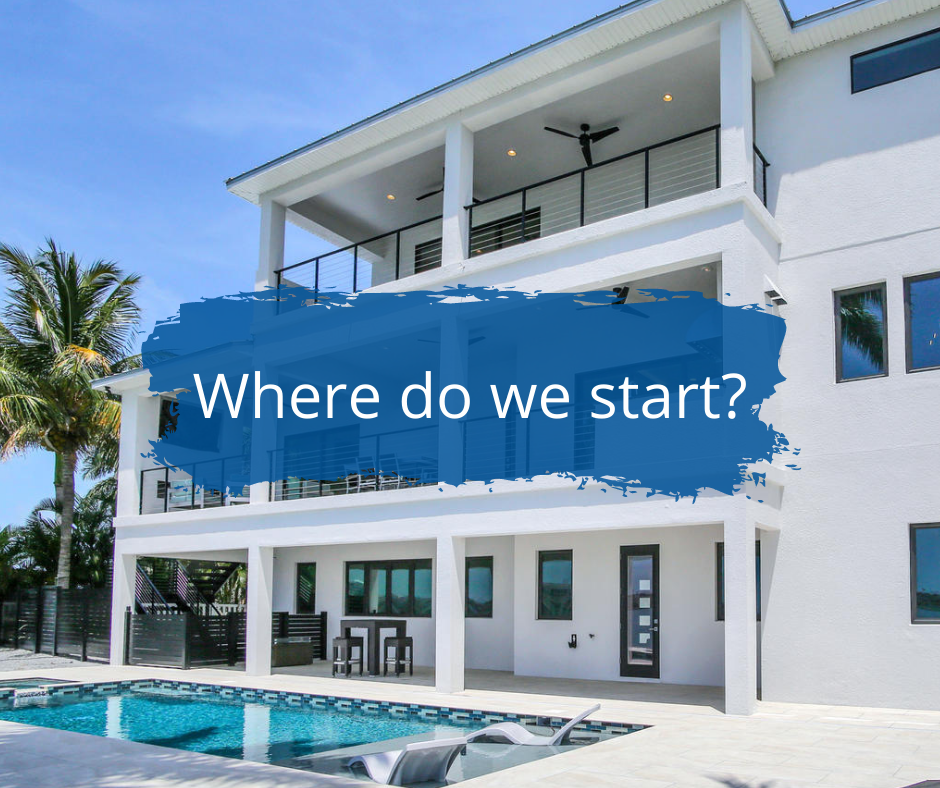 Thinking of Building Your Custom Waterfront Dream Home? Here Are 5 Things To Know When Getting Started
Deciding between purchasing a pre-built home or building from scratch can be challenging. While buying a pre-existing home has its advantages, having a home designed and built to your exact specifications is the most desirable choice when searching for your dream home. The custom options available allow you to create a property that fits your exact preferences, style, and budget. And although this may sound like a complicated process, working with the right construction and design team can make it feel effortless.
If you're considering the idea of building a custom waterfront dream home, Lubke Construction outlines five things to know when getting started.
Know where you want to live
Before drafting blueprints and exploring design plans, the most important thing to do is find where you want to live. Location is such a critical factor in a number of decisions you'll ultimately need to make during the home-building process. Search for spaces of land that can accommodate all your must-haves, including desired square footage, an in-ground pool, a spacious patio area, and more.
Additionally, you will want to find land in a neighborhood that is close to your favorite businesses and that fits your needs. Location will affect the cost of your project, so you will want to know how much you will be spending on your land before diving into designing your home.
Work with your builder from day one
It is best to work with your builder from day one. Rather than hiring an architect first and a construction company second, hiring a team that can coordinate all elements ensures a seamless and stress-free project.
As an all-encompassing construction company, Lubke Construction provides you with all the experts you need to design and build a stunning home. This includes everyone from your interior designer, to your design professional, to your construction manager. Having all experts working with one another from the start is a smart way to eliminate the risk of preventable miscommunications and delays.
Set your budget and consider your loan options
After selecting your land/neighborhood and choosing a construction company, get a concrete idea of your budget. Even though you likely have a general budget in mind, this is the time to establish your set budget range. Having this figure allows you to make informed decisions about your home's layout, design elements, and features.
Another critical part of building a new home is finding the best loan option. Instead of taking out a standard mortgage, consider applying for a construction-to-permanent loan. This type of loan pays your builder as they complete work. Once your home is finished, the costs are rolled into a standard mortgage loan. It is important to note that this kind of mortgage is more challenging to get approved for. Requirements for your credit score, income, and the like are meticulously evaluated, so be sure to speak with multiple lenders to see if you qualify.
Browse available home styles and floor plans
Now, the fun part: choosing a floor plan for your home. This is the stage during which you can customize everything from your flooring, to your bathroom fixtures, to your countertops. During this time, you can also request design guidance for expert advice.
Consider all timelines involved
Timelines for building a home can vary significantly. The time it takes to complete your home will depend on numerous variables, which can change the estimated date of completion. When planning to sell your current home, stay in close contact with your project managers to know when it is best to put up your listing
For those who desire the ultimate waterfront dream home, building a new property is easily the best choice. Being able to live in a home that you've designed from the ground up is a rewarding and outstanding experience.
Lubke Construction specializes in building fully custom luxury homes along the Gulf Beaches waterfront. Ready to begin designing your dream home? Contact our team today.
Guest blog provided by:  Megan Cooper (www.reallifehome.net)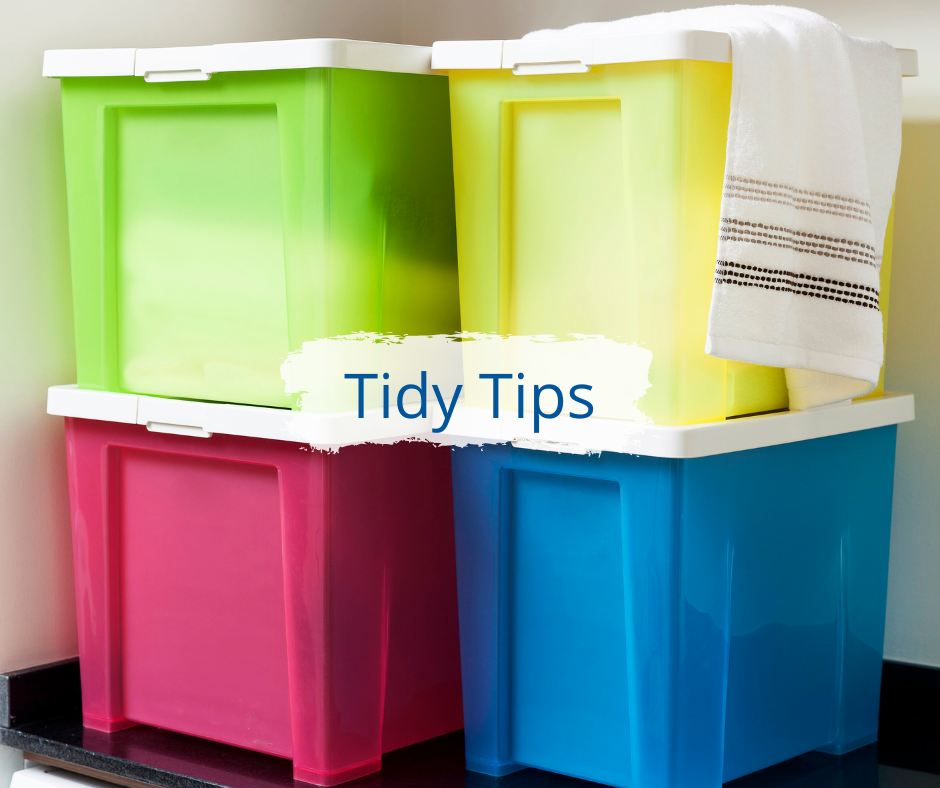 We all dislike clutter, but keeping tidy can be quite the chore if things get out of control. Here are some Tidy Tips to help stay organized in your new custom home:
–A Place for Everything: When planning the design of your home, it's the perfect time to consider your storage needs. Love Holiday Decorations? Have an impressive collection you'd like to show off? Our Team will help come up with a storage solution that suits your needs.
–Start By Making the Bed: As the old saying goes, "If you want to change the world, start by making your bed." Once you are in your new home, this simple practice is a great way to establish tidy habits.
–Bring It Out, Put It Back: Like we discussed before, you should plan to have a dedicated location for every item you own in your new custom home. If you do, it will be easier to return things to their rightful place. A good rule is to put everything you bring out back where it belongs. Clutter doesn't happen overnight, so keeping this in mind every day helps to avoid a mess.
–Go Paperless: These days, we live in a digital world. So many documents we used to keep track of physically are now delivered and stored in the virtual realm. With that in mind, it's a good time to downsize your paper collection. We realize you must keep some important documents, so be sure to utilize a safe or cabinet to help you stay organized.  Make sure it's fireproof, too!
–When In Doubt, Donate It: If you no longer love it or need it, but there's still life left in the item in question…toss it in the donation bin! Keeping space for donations helps you gather things like outdated clothes, holiday decorations you no longer use, or old electronics.  Once the bin is full, you know it's time to take it to your favorite local charity for donation.
–Call for Backup: Don't be afraid to call in the reinforcements when you need a hand. Most cleaning companies are flexible with how frequently they visit, so think about a program that works for your needs. Think of all the things you can do while they tackle the job for you!
The task of staying tidy is a never-ending game, and there are many more ways to stay organized than what we listed here. Hopefully we helped you think of a few new ways to stay tidy in your new custom home!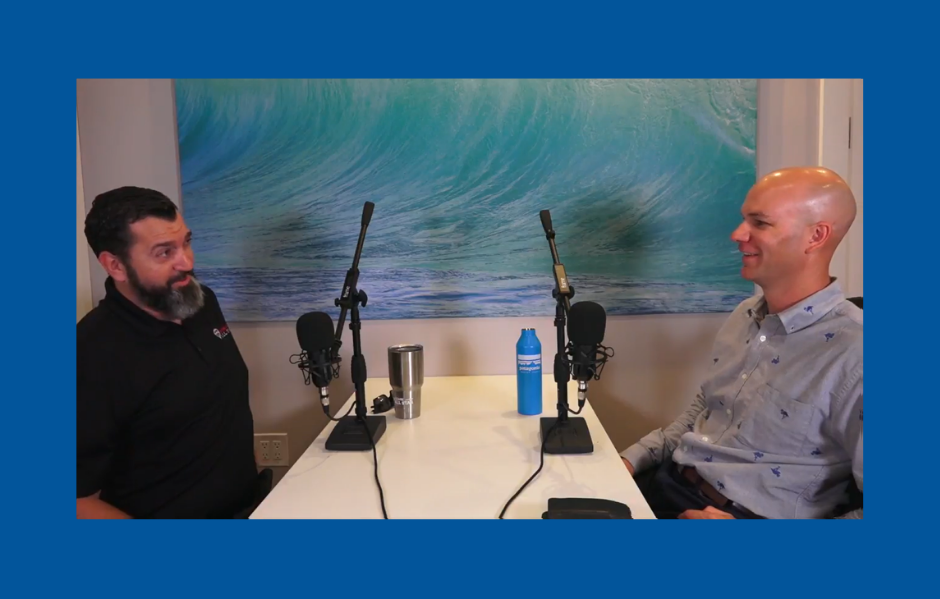 This blog is a transcript from a conversation between Chad Lubke and realtor Nick Fraser:
Chad Lubke (CL): I have Nick Fraser from RE/MAX All Star with me today. They're located just a few blocks away up Gulf Boulevard. I appreciate you coming in this morning, and I look forward to gleaning some insight from you. So, tell us what RE/MAX All Star does.
Nick Fraser (NF): We're a residential and commercial real estate company, and we've been around since 2004. We opened on Gulf Boulevard in Madeira Beach, and we've got around 25 agents – all top-producing agents. So, we're trying to be more quality than quantity.
CL: What made you choose Madeira Beach?
NF: Actually, it was the only space available.
CL: Alright. I kind of have the same story. It's hard to find spots on the beach.
NF: Yeah. I mean, I've been vacationing here since I was 3 or 4 years old, so this has always been a second home for me. Then I moved over here in 2002. It may come as a shock that I'm not born and raised here (whenever I talk to Siri, I have to put on an American accent – she can't understand me). So, I got into real estate and then we bought a RE/MAX franchise. When I say we, I mean my dad, Keith, and I. So, we bought the franchise 2004, and back then there just weren't really any options on the beach. We wanted to be on Gulf Boulevard, we love the beach life, we love the beach real estate area, and it really kind of gels with our culture and our style. We didn't want a big office building in a high rise or something like that, you know? We wanted to be accessible to the general public as they drive by and as they walk by. Basically, the only location that was available was in Madeira Beach. It's worked out perfectly because it's equidistant between Clearwater Beach and St. Pete Beach, and it's just 20 minutes across to downtown St. Pete. It's a great location. Love it.
CL: Where do you live?
NF: I live just off Gulf Boulevard in Seminole. I'm literally a half-mile walk to the beach. It's ideal for me, because I enjoy boating, and its one mile door to door for the boat ramp. So, it's perfect. It's nice and quiet, and good for the kids as well.
CL: So, you said 2004. It was kind of crazy then, but that was just prior to the total craziness. Then the market crashed, and now it's back up to kind of crazy.
NF: Yeah. It's funny. I remember that it was around November or December of 2005. We bought the franchise in 2004, were doing the build-out, and then we opened the doors in January of 2005. It was crazy. We had so many realtors wanting to join us. We were doing so much business, then I actually remember, in October of 2005, pumping gas at the gas station that used to be next door to here, and thinking, "What just happened?" It was almost like someone had flipped a switch, and that was it. It got so quiet. It went through 2006, 2007. And then mid-2008 was when it started to really pick back up again. But we really had to change our whole business model, and focus more on short sales, investors, and helping people in foreclosure, things like that. We really changed our business model. So, in about mid-2008, things started to tick back up again. We were trending ahead of the curve and now we're seeing more of a normalized market. People think it's crazy because of the number of bids people are getting on a listing and how low the inventory is, but in terms of pricing, it's still kind of where it should be.
CL: Yeah. I kind of feel the same way. Some of the challenge that we have right now is just the cost of building. I mean, land has appreciated, but it's not crazy. It's still a better buy than it was then. I think it's somewhat fairly priced, but people now, they forget that the cost of building something keeps going up. We have to pay people more money as inflation goes up, materials cost more, etc. So, that's kind of the challenge, two years ago it might have been 20% less. Which is good for resale, because you can't build them for what you can buy them for. It's interesting right now, for sure.
NF: One of the things that we get is: obviously, you know, real estate is always in mainstream media. We'll go on a listing appointment, and the seller says, "Well, I've heard real estate's appreciating, so I want to be in line with that appreciation value". They'll want to list it at 35% more than it's actually worth. Sometimes we are in a position where we are getting out and walking away from those deals, because those are unrealistic expectations.  When you look around, this area is, bang for the buck, still really good. As for the products that you build, I mean, I'm a big fan of what you do. Even 30 miles south in Sarasota, it'd be another $500,000 on the price point or something like that, whereas here, I think it's just such a good value for the money. There's great, amazing things to do around here, the beach life, the boating life, fishing, whatever you want to do, I just think elsewhere in the state and in the country, real estate is so much more expensive than it is here, and we live in paradise.
CL: The thing is, no matter what, people are always moving to Florida. It used to be the mantra: "its old people coming," but now it's people that can work from home, and they want the beach lifestyle. I mean, it gets a little hot in the summer, but for 75% of the time it's really nice, you only have to own half the amount of clothes to function, and you don't need ice scrapers and all the other crazy stuff, you know what I mean?
NF: Until you go on vacation skiing and then you have to buy everything!
CL: Exactly.
NF: Go somewhere cold and then you need jackets for some reason, were you born and raised here?
CL: No, I'm from Michigan.
NF: So you should never complain about the heat.
CL: I do vacation in cold weather. We'll go skiing, and I love the snow sports, but, I've built in the cold, it's unbearable, having to heat your car up before you go. When you're there on vacation, it's exciting because you want it to be cold. The day to day, though, is just miserable.
NF: Coming from where I come from, which is Newcastle in the north of England, we don't have the weather extremes like in Michigan and what not, you guys have nice seasons, you have a nice summer and then you have a cold winter. We just had 3 months of winter, and 9 months of bad weather. It's just kind of dreary all year round. So yeah, I get hot and sweaty during the summer, but I don't want to complain about it.
CL: Yeah. I don't know how I lived in that dreary weather, Michigan does have the seasons, but it's still cloudy a lot. Now, occasionally we'll have a day here where it's cloudy for a good majority of the day, and my energy levels go down, I get a little depressed, and I just can't get motivated. But then the sun comes out, and it's just great. Even if it doesn't, at the end of the day you'll have a beautiful sunset. It's something nice.
NF: Absolutely. I'd rather have a bad day here than elsewhere. It was very similar for me, we'd go to work in the dark, and we'd come home in the dark. Then, we would have shorter and shorter days in the winter, and longer in the summer. It doesn't get dark until about 10:30 or 11:00. I remember walking into work, and there was someone with a special light on their desk, just to feel like they get some sun. I've traveled around a little bit, not a whole lot, but this area is, you know, I'm always coming back to here.
CL: Do you still have family back in Newcastle?
NF: Yeah, my sister's back there. Her and my brother-in-law, they've got a business over there. They're pretty busy with that, but, they come over here once or twice a year, so I get to see them. I've only been back to the UK once since moving here, it's just, "been there, done that." Nothing's really changed. I miss a few things, I miss some friends, but the majority of them vacation in Orlando at Disney or something, so I get to see them, I get to meet up with them here and show them the Florida lifestyle.
CL: Tell me a little bit about that Florida lifestyle. What do you and your family enjoy?
NF: Just mainly sitting at home, watching TV… I'm joking. Well, we've got 2 dogs. We try to get a walk in them plenty of times, and my son, he's coming up to 10 years old, so we try to make sure that we are doing plenty of outdoors things with him, he's big into sports. I'm big into sports as well, and just recently stopped playing. So, we're often outdoors on a Saturday and Sunday. I like to go out boating. I've got a smaller fishing boat, but I don't get to fish much. When I do get to go fishing, I relearn how to do it, but by the time I go back out again, I've forgotten everything.
During the summer, there's different places you can go, if you want to get away from the heat a little bit, just go up to Rainbow River and go tubing on the fresh water river, and it's beautiful up there. So, we like to do coastal things. We like to hang out at the beach, and even just around the pool. Just a day of relaxing around the pool, having a couple of cocktails, and enjoying family time. You don't have to be cooped up indoors. People always say, "Oh, you Brits, you're always in the pubs." There was nothing really else to do. Other than building up a good tolerance for it, it doesn't serve much. Also, the nightlife here and things to do on a weekend and evening is just incredible. The cool thing is all different outdoor events that are mainly free. I mean, even just here in Madeira Beach, they've done those music concerts. There was one on the beach the other night that I wasn't able to make. Then you go downtown and there's always something at Vinoy Park, like the Blue's Festival. Now downtown – that's changed immensely. We go down there regularly for dinner.
CL: What's your favorite restaurant down there?
NF: I like The Lure. I just like a relaxed environment.
CL: No nightclubs?
NF: No, no. Those days are long gone. There's a bar called Ruby's Elixir, where they'll have a live band playing either jazz or blues, and you can sit and have a cocktail. It's really nice. I like it down there, and it's only 20 minutes away.
CL: When people think about coming to the beach, and my wife was even the same way, they think that it's only old people, and that it's so far from everything, but with the new Seminole City Center, they have Earth Fare and all those other things in that complex, a Publix on every corner, pharmacies out here, it's really not far.
NF: No. I think it's only in the past 5 or 6 years that it's really kind of taken a swing towards a younger demographic. You'd have young, professional couples that would have a nice waterfront house or something, but then they'd say, "There's nothing going on around here." Now it's all changed. Even the beach life up and down the beaches, it was always restaurants that were real beachy. Now it's really kind of changing. For example, you've got that rooftop bar down at St. Pete Beach now, the Hotel Zamora.
CL: Also, there's a brewery right by Treasure Island, Sea Dog, which is on the water.
NF: Hopefully they're going to put docks in there. That would be really cool, but yeah, there's Sea Dog, there's Mastry's, there's stuff going on down at the Corey Ave part of St Pete Beach, and more development in Indian Rocks as well.  There's plenty to do, I remember back in 2005, the majority of these waterfront restaurants were selling out to developers, who could come in and build some condos or whatever they wanted there, so, for a time, there wasn't really any way you could go and enjoy a drink or a bite to eat while sitting on the water, whereas now, you've got Slyce that they have just put in here at Madeira Beach, so you've got dock access. You go up to Indian Rocks and they've got the municipal docks there, where you can dock up and walk up into the town and enjoy a bite to eat.
CL: Also, The Pub, in Indian Shores, which is called Caddy's Pub now, so I'm assuming Caddy's bought it.
NF: Caddy's, continuing their quest for world domination. Yeah, they've got a place downtown as well, they're a part of MacDinton's and that group. So yeah, they're doing well.
CL: So, the restaurants, they have some nice ones in downtown St Pete as well, my background is high-rise condos. The first one I did for the developer, Opus, was Parkshore Plaza, they have Parkshore Grill on Beach Drive. Then we did 400 Beach Drive, which was the next tower, and they have 400 Beach Seafood & Tap House on Beach Drive as well. The owner of that, Westfall, he actually used to own The Pub. I think he owned some other stuff as well. It's funny how small the market is. It's a very densely populated geographic area, but, you kind of see the same guys doing a lot of the deals, which is cool, because they do a good job. In downtown Clearwater, I did a development down there, and nothing would stick. Something would open, and then it would close, with these guys, it seems like what they do stays and has traction so they can build a following.
NF: Clearwater Beach is now really, really cool for just entertainment and restaurants and things like that.
CL: It's hard to get there with traffic during the busy season, that's the only downside.
NF: I remember, the first place I stayed here was the Sheraton Sand Key, and that was the only building on the beach for miles and miles.
CL: We just stayed there recently, and it's such an old building now, whereas it used to be the go to resort, but, it's still a cool place.
NF: The beaches there were amazing, beautiful white, sandy beaches and pine trees. Now it's all condos and high-rises, which, you know, you can't stop progression, and it's all good, but I like how the beach is still accessible to people here. You don't have to be living on the sand to enjoy it.
CL: Yeah. We have good accessibility. And compared to a place like Miami or California, it's affordable.
NF: I don't know if you saw in the news lately that there was some legislation that the general public wasn't allowed on the beaches where they're kind of private – where they're owned to the water line. So, I started researching into that because a lot of my friends were asking, "Nick, what's going on?" To be honest with you, there's zero information out there about it, and they're not actually re-covering the story and helping people understand better.   As far as I'm concerned, all of these homes that are on the beach side, they still have a property boundary. The survey will show that you've got the water's edge, the sand, and then their property boundary. So, as far as I'm concerned, you can't just arbitrarily extend your own property boundary to the water's edge
CL: I think it varies per municipality. I've seen surveys in Treasure Island – for instance, Caddy's.
NF: They do own to the water. If you look at the property on the Pinellas County Property Appraiser's office, it does extend out to the water. So they actually have a case, but a lot of these don't. Can you imagine any other home on Treasure Island to extend to the water's edge? It's about a mile to the water.
CL: Yeah, I'm with you. We have a house going right now that's almost done on Indian Rocks Beach., and it's funny, people don't think about this, and I never really used to either, but there's actually a seawall there, which is kind of the back edge of the property. So, the seawall on a lot of these beach properties are before the dunes, and that's where your property ends. Then you have your little walkway to the sand. I mean, that makes sense to me. Owning all the way to the water does not make sense to me. And then all the fights that are going to happen with people! What, are you going to do, fence it? How are you going to police it? I mean, you can't extend fencing, that's crazy.
NF: Beaches are owned by government entities, so we're paying for it. So, what happens then? Do all of the homeowners have to pitch in and pay for the people to clean the beaches?
CL: Also, there's the beach reclamation, and the renourishment? They're doing the renourishment right now on Treasure Island. They have a big barge at John's Pass, and they're pumping that sand. I don't know all the specifics, but I do know that Redington Shores isn't getting the renourishment because some people didn't sign an easement or something like that. So, they're missing out on the renourishment, which, without that, is basically making the beach smaller, no matter who you are, that's not a good deal.
NF: That, sometimes, is the issue around here. I think that stems from the fact that there's so many small municipalities that are governing what happens in that municipality. So, you drive up Gulf Boulevard, between St. Pete Beach and Clearwater Beach, and I think there's 10 municipalities.
CL: It's crazy.
NF: So there's 10 different governing bodies, and you just lose that uniformity for the area. It's got to be a nightmare for you.
CL: It's good for me, because we understand it, and most people don't. So, it's a competitive advantage, it's good because anytime things are harder, less people want to do them. These friends of mine have a business model where they do a couple homes a year. They fully build them out, stage them, and then they list them. It's a "here you go – take it or leave it" type of thing. They're patient, it takes them 6 to 8 months to sell. So, they had two homes side by side, one was in Indian Shores, and the other one was in Indian Rocks Beach, and there's a beach access between the two. If you look at the one on the Indian Rocks side, it's 4 or 5 feet shorter than the Indian Shores side, because Indian Shores lets you build taller without sacrificing side setbacks. Indian Rocks has a rule that with every 2 feet that you go above 35 feet, you have to come in 1 foot on either side, plus 12% of the overall width, you have to have a Master's in calculus to do it.  . I always tell people there's a major difference, side by side, comparable difference, when you're talking about a 45 foot wide piece of property, I mean, that's huge. A foot is basically a mile, you know what I mean? It's crazy, they are also measuring how high you have to build it. In Indian Shores, the first floors are 14 feet off the ground, and in Indian Rocks, it's more like 12. So, it's all these different calculations. It just keeps you guessing.
NF: Going back to the beach access side of things with the legislation, I don't know, I have a feeling that it's mainly kind of based around the Naples area.
CL: Those houses are a little bit bigger.
NF: There's very little access for the general public, but, I would like more information, because I can't find any.
CL: I tried to get a mayor to come talk to me, but they thought that it would be too much of an endorsement or promotion, but, I'm going to try again. Now I'm going to send them this video and say, "Hey, look, Nick Fraser wants you on record. We want to know what's going on."
NF: We should have a ring around us here like WWE.
CL: Ha-ha, we'll lock the doors and pin these people down.
NF: No, I mean, I know that the news was saying, "People can't have access to the beaches anymore" and people were going crazy. Then you look at the social media on it, and it looks insane. This has caused a huge, huge concern, so, it seems that the general public is only being given part of the information.
CL: Even the government probably doesn't know what's going on. It's like, we have this law, but we don't understand it. I read an article in the Beach Beacon, and they had the same type of problem. People came to a commission meeting and were upset because the commissioners hadn't let them know. So they asked the commissioners, "When did you guys find out?" They said, "We found out when you found out, on the news!" With these municipalities, it's not like they have some secret door to the workings of Tallahassee. They don't know much more than us.
NF: They can only deal with what they're given. But yeah, it'd be good to have a bit more information on that, I mean, over here you've got Archibald Park, and you've got all the different beach accesses up and down Gulf Boulevard, so there's plenty of places where people can go and enjoy the beach.
CL: That's the thing. We get so many people from Tampa and even Orlando that come over, and you don't want to make it like a secret club.
NF: I'll tell you what I think is cool, they've started doing the water taxi, Hubbard's Marina is doing that. I remember 15 years ago, my wife and I went down to Fort Lauderdale, and the little B&B where we were staying at had a water taxi that would come up and pick you up and take you. Fort Lauderdale is a little different than here, a lot more expensive, but I think it's pretty cool. If we can get on board with that, pardon the pun, and really promote that, I think it would be very, very good for this area. Then people can go around to different restaurants and places on it.
CL: 00:00 Our gas provider is Clearwater Gas, and their sales rep invited us to this sand festival on Clearwater Beach. They sponsor the event, so, we took an Uber to Clearwater Beach for that, because we knew that it'd be crazy for parking. Our sales rep and another person that he invited, parked in downtown Clearwater and took the water taxi over, the dock is literally right across the street from Pier 60. It is really cool.
NF: There's more and more of these things becoming available, you know, and we're not the sleepy little beach town that we used to be. I know a lot of people want it to stay the way it was, but that's not going to happen.
CL: Right. It's a desirable area. We have a good hockey team right now, so that's exciting to watch.
NF: We will not talk about baseball or football.
CL: No, no. I told you, "We're only going to talk about things that are exciting. We won't broach into things that are boring and irrelevant." Ha-ha. So, your office is right in the new Madeira Beach Town Center, which is under redevelopment. Give me the lowdown on that whole deal.
NF: There's quite a bit of property there that's been purchased by Bill Karnes, or William Karnes Enterprises, and they're partnering up with some hotels. So, there's going to be 2 new hotels. There's going to be 10,000 square feet of retail and restaurant space. There's also going to be 2 condo buildings, with around 48 condos each, and a marina. So, it's all going to begin at basically 150th, or the Tom Stuart Causeway. As you had west across to the beach, on your right hand side there's going be the 2 condo buildings there. Then, on Madeira Way, there's going to be a hotel with restaurants. Then across the street is where my office is. It's called The Triangle, because it triangulates between Gulf Boulevard, the Tom Stuart, and Madeira Way. So, that's going to be a hotel with the retail and restaurant area as well. We are within all of that redevelopment district, and we're looking forward to being a part of it moving forward, and hopefully have a nice, shiny, bright, new office space there, but, I believe that one's going to be a few years away. So, phase one, which they're selling right now, is going to be where The Bronze Lady is. They're going to be doing the hotel there. That's going to be a Cambria hotel. Then, just next door to the east of it on 150th, there's going to be phase one of the condos. So, I think they're talking about completion for the condos in 2020, around this time of year. You're going to have 2 years of build on that, and then there's going to be a settling-in period for the hotel as well. I've got a website up and running called MadeiraBeachTownCenter.com, which gives a bit more information. There's also some floor plans for the condos that are going in, and I'm more than happy to help anyone who is looking to invest in the area. I think they're doing two week minimum rentals. Also, for the first year you go, you get full concierge access to the Cambria Club as well.
CL: The Cambria Club, sounds fancy, I want to join.
NF: Actually, I think Bill's talking about putting in a rooftop bar there as well. So, everything that he's been putting in place is to provide an infrastructure and services for the redevelopment that's coming in, which I think is good, because a lot of developers just go boom. There's a condo building, have at it. Then across the street from there, at the southwest corner of the bridge, I believe there's going to be another hotel complex going in.
So, all that peninsula is going to be marina, I believe, and a low-rise hotel and restaurant.
CL: Our office is here on Madeira Beach, but we don't do a ton of deals here. It's always been like the redheaded step child of the beaches, I think that this will hopefully increase the name and all of that, dramatically.
NF: Oh, I mean, a lot of the property around here really does need to be torn down. My office is, I don't know how old, maybe 60 years old, the structure… it's time. You can't just keep fixing and fixing and fixing. So, there's a lot of it that does need it, and I think you're right. In Madeira Beach people have always said, "Eh. It's just Madeira Beach, it's a fishing town." but that's what it was built around!
CL: It's kind of cool, too, it has that legacy. When I came down here in 2005, I didn't know anything about the area. I was working for this developer doing 30 story condos, and they told me, "you're going to do these two projects in downtown St Pete," I had no idea. I just had to figure it out myself, like where to rent a place, etc. My wife was still in Michigan, and I was in this extended stay hotel place. I also had a wakeboard boat at the time, when I first moved to Florida, I thought I'd live on a lake. Come to find out, they're filled with alligators and snakes. So, that was not the right mindset. I ended up settling right behind here in Madeira Beach, at the butt-end of a canal, in a 600 square foot duplex-type home. Eventually my wife, Julie, came down, it was 2005, so it was the year of Katrina and all those other storms.
NF: That year, we literally had a hurricane every weekend.
CL: I remember, some friends of ours invited us to go to a property in Taylor County, which is way north, its alligator country – really rural.  So we heard a storm was coming, and we had these little baskets that we put our crappy couches on top of. We thought that the extra 6 inches might actually do something. It was funny, though, because we actually had the water really close to coming in the sliding door. I mean, the property was old, anyways, it's just kind of funny to come back to where we started, to have an office right across the street from where I first lived down here, it brings back the memories. I was working like crazy then, but I just remember sitting on the beach after work, reading a book, and talking on the phone with Julie saying, "Hurry up and sell our house up there! I'm on the beach reading a book, what are you doing?"
NF: Yeah, it's changed a lot. Even just the Snack Shack across the street. For years, that was just empty, and some of the retail around here was really poor. We have some good restaurants, it's all good, the progress and the change, because it definitely needs it here.
CL: I mean, the beaches are beautiful. There's some nice homes, there needs to be more, and then there's some nice condos.  For 10 years though, there was nothing being built, so, that's the thing. What do you run into with clients? When they say they want something new, there's not a lot of inventory for new stuff, right?
NF: I call you.
CL: You call me and say, "Build us something new."
NF: You know, elsewhere in the Tampa Bay area, someone could call and say, "Hey, I want a gated community. I want new construction. I want this, that, and the other", and it's there. It's nearby. There's even some developments up in Palm Harbor, I was just out there the other week, and there are smaller developments. They're not the huge tracks of land like the ones down at Lakewood Ranch, because there's just not the land to build on. So, if someone is looking for new, and they want to be on the beach, or they want to be close to the beach, then that's more of a conversation to help educate them on what we have to offer. If it works for them, great. If not, then at least I've done my job and provided them the information so they can make an informed decision. There are a few little communities here and there, but there's not a lot to choose from.
CL: Where are you seeing people come from? Specifically, for people that are buying, or interested in buying, beach or coastal stuff, where are they coming from?
NF: I don't think there's any one place, because this is a vacation destination, you have people from all over the world coming here. Obviously there's a lot of Canadians, a lot of people from Ohio and the Midwest, a lot of Europeans, etc. We just got a client under contract who has just moved back from the UK. She spent 10 years over there and now wants to be back here closer to family. So we've got people from everywhere, from all walks of life.
CL: It's weird, because we'll get Canadians from Toronto, a big portion from Toronto, and like you said, Ohio, Indiana, Illinois, Michigan, upstate New York, and some parts of the Northeast – excluding the big cities. Then when it comes to the Europeans, it's the UK and some Germans, but no French, for example. You know what I mean? Then if you go down south to the Naples area, you're getting more people from the bigger cities. Then obviously Miami's having even more.
NF: I think a lot of that has to do with what the advertising is in those areas. Some municipalities, like Clearwater or St. Pete, may advertise predominantly in the areas that we just talked about. Whereas Miami could be adverting in Chicago or Manhattan.
CL: Yeah. I think they're hitting the big cities. Downtown St. Pete's cool, and it's a city, but it's not a Miami or Fort Lauderdale, which I like, I prefer that. I wouldn't want to live in New York City or Chicago. I love visiting those places, but with kids, it's just too much. I want to be more relaxed and laid back.
NF: I think some areas have more pockets of certain demographics and people from certain areas of the world. You know, you're not going to have the Miami Tourist Board advertising in Iowa or something like that, it's just not a fit.
CL: So, the other business you're a part of is Synergy Title.
NF: Yeah, Synergy Title Partners. It's been a long time coming. I should have gotten into the title business a lot of years ago, but, as the name says, it is a partnership. As you know, my focus is real estate and real estate brokerage, and, I kind of feel that sometimes if you chase two rabbits, you catch neither. So, I've partnered with Mandy Hunter and Kevin Overstreet, who have Insured Title Agency in Tampa, and we're their sister company. We've got some great closers in the office there with Leslie and Tiffany. We're growing organically through word of mouth. We're not pushing people or ramming the title company down people's throats. So, people are using us and then they're starting to realize, "Well this was a good, positive experience" and then sharing that with others. There's also some good google reviews out there. It's a good company to be a part of.
CL: So, how do people get in touch with Nick Fraser or your team?
NF: The company website is RemaxAllStars.com. So, that's the main company website. My cell phone, if anyone ever wants to reach out and ask any questions, is (727) 403-8007 or NickFraser.com or BeachRealtyExpert.com. I tried to cover all bases.
CL: Awesome. Well, I appreciate your time.
NF: My pleasure. This has been fun.
CL: Good conversation. No questions you couldn't answer. Thanks a lot.
NF: Thanks a lot, Chad.