Maximizing Waterfront Living: The Art of Positioning Your Coastal Home for Gulf Sunrises and Sunsets
When it comes to creating your dream coastal home on the beautiful Gulf Beaches of Florida, every detail matters. From the choice of materials to the architectural design, one crucial aspect that often sets apart a stunning waterfront residence is the meticulous consideration of its position on the lot. At Lubke Homes, we understand that crafting a luxury, coastal masterpiece goes beyond masonry structures; it's about embracing the natural beauty around us. In this blog post, we'll explore the vital importance of positioning your home correctly when living on the water, focusing on sun exposure, breathtaking views, elevated decks, and how we harness the angles of the sun to make the most of both Gulf Beach sunrises and sunsets.
Sun Exposure Matters:
Florida's sunny climate is one of its main attractions, and making the most of it can significantly enhance your coastal living experience. The position of your home on your lot plays a pivotal role in this regard. At Lubke Homes, our dedicated team carefully assesses the sun's path throughout the day to ensure optimal sun exposure while also considering shade for comfort. This balance is key to creating outdoor spaces that are perfect for relaxation and entertaining.
Captivating Views, from Sunrise to Sunset:
Living by the water offers a unique opportunity to enjoy breathtaking vistas every day. On the Gulf Beaches, both the sunrise and sunset are truly remarkable. To fully appreciate these moments, it's essential to strategically position your home. Our design and construction process at Lubke Homes takes pride in ensuring that your home is oriented to capture the most awe-inspiring Gulf Beach sunrises and sunsets. We believe that each day should begin and end with the beauty of nature's artwork.
Elevated Decks for Sunrise and Sunset Bliss:
Imagine starting your day with the gentle glow of the sunrise over the Gulf waters and ending it with the vibrant hues of a sunset. Elevated decks offer a spectacular vantage point for both of these daily spectacles, and their placement is a crucial consideration in coastal home design. Lubke Homes carefully positions these decks to ensure that Gulf Beach sunrises and sunsets become an integral part of your coastal lifestyle.
Understanding Solar Angles for Sunrise and Sunset Views:
To fully appreciate the brilliance of Gulf Beach sunrises and sunsets, it's essential to understand the intricacies of solar angles. The angle of sunlight during these moments creates a unique and magical atmosphere. Lubke Homes takes this into account during the design process to ensure that your home is optimized for capturing these mesmerizing moments, creating unforgettable memories that will last a lifetime.
Front and Rear Views:
While the focus is often on the rear views facing the water, the front of your home also matters. At Lubke Homes, we consider the aesthetics and functionality of the front side of your residence, making sure that even the approach to your home is a prelude to the grandeur of Gulf Beach sunrises and sunsets.
Conclusion:
When you choose Lubke Homes for your coastal dream home, you're selecting a dedicated team that understands the intricacies of waterfront living and the unparalleled beauty of Gulf Beach sunrises and sunsets. We take pride in the art of positioning homes correctly on their lots to maximize sun exposure, capture breathtaking views, and create unforgettable outdoor spaces that make every day begin and end with a world-class sunrise and sunset. Enjoy the Gulf Beaches to the fullest with Lubke Homes, where the beauty of nature meets the excellence of design, and each day is framed by the magic of the sun.
Explore Luxury Living and Investment Opportunities with LUBKE Homes
We are delighted to introduce you to an extraordinary opportunity that epitomizes luxury living and savvy investing. LUBKE Homes proudly presents a range of remarkable residences, each embodying craftsmanship, elegance, and the allure of coastal living.
**Tropicale: A Waterfront Haven of Luxury**
Step into the world of Tropicale, a fully custom luxury single-family residence nestled right by the water. Designed to cater to the most refined tastes, Tropicale offers a unique blend of comfort and opulence. From panoramic views to impeccable detailing, this home is the epitome of coastal living at its finest. 
**Mimosa and Palms of Redington Townhomes: Own and Earn**
Embrace the dual pleasures of ownership and investment with our exquisite townhome offerings. Mimosa and Palms of Redington present a unique opportunity to own both sides of a townhome, allowing you to live in one and rent out the other for additional income. Coastal charm meets financial wisdom in these thoughtfully designed spaces.
**1800 Gulf Townhome: A Singular Investment Opportunity**
While one side of 1800 Gulf Townhome has already found its owner, the other side offers a chance to experience coastal living in its purest form. This unique residence not only offers you a personal retreat but also stands as a testament to the art of smart investing.
To explore the details, including floor plans, images, and more, please visit our website: https://lubkeconstruction.com/available/
We invite you to take a closer look, imagine the possibilities, and envision yourself in a home that resonates with your aspirations. LUBKE Homes is committed to delivering quality and excellence that endure.
Should you have any inquiries, desire a personal tour, or wish to discuss any aspect of these exceptional properties, our team is here to assist you every step of the way.
Thank you for considering LUBKE Homes – where luxury living meets intelligent investment.

Custom Homes and Lighting... Getting it Right!
The allure of a custom home nestled on the waterfront is undeniable. The stunning views, the serene atmosphere, and the sense of tranquility that comes with living by the water are incomparable. However, to truly create a haven that captures the essence of waterfront living, it's crucial to pay attention to every detail of your home's design. One of the most impactful elements that can elevate the ambiance and functionality of your waterfront abode is the choice of lighting fixtures. In this article, we'll explore how the right lighting fixtures can make all the difference in your custom home on the water, and how the expertise of the LUBKE Design Center Team can guide you in making the perfect choices.
**The Role of Lighting Fixtures**
Lighting fixtures go beyond mere illumination; they are artistic expressions that set the tone for a space. In a waterfront home, the interplay between natural light and carefully curated artificial lighting can create a mesmerizing and inviting environment. Here's how lighting fixtures play a crucial role:
1. **Enhancing Ambiance**: Whether you're enjoying a quiet evening by the water or hosting a gathering, lighting fixtures can transform the ambiance. Soft, warm lighting can create a cozy and intimate atmosphere, while bright, vibrant lighting can energize the space for lively events.
2. **Showcasing Views**: A well-designed lighting scheme can emphasize the beauty of your waterfront views, even after the sun sets. Thoughtfully placed fixtures can highlight key elements, such as the shimmering water, lush landscapes, or a distant skyline.
3. **Defining Spaces**: Different areas of your waterfront home may have distinct purposes, from the living room to the outdoor patio. Lighting fixtures can delineate these spaces, making them feel purposeful and well-defined.
4. **Artistic Statements**: Lighting fixtures are more than functional; they're art pieces that can express your personal style and enhance the overall aesthetic of your home. From modern minimalist fixtures to intricate chandeliers, the possibilities are endless.
**The LUBKE Design Center Team: Your Lighting Partners**
Navigating the vast world of lighting fixtures can be overwhelming, especially when you want to make choices that complement the waterfront environment. This is where the expertise of the LUBKE Design Center Team comes into play.
1. **Professional Consultation**: The LUBKE Design Center Team comprises seasoned professionals who understand the nuances of lighting design. They'll collaborate with you to understand your preferences, lifestyle, and the unique features of your waterfront home.
2. **Tailored Solutions**: Every home on the water is distinctive. The LUBKE team will curate lighting solutions that harmonize with your home's architecture, interior design, and the surrounding landscape. Whether you're aiming for a coastal, contemporary, or timeless look, they'll guide you to the perfect choices.
3. **Latest Trends and Innovations**: Staying up-to-date with the latest trends and lighting technologies is a challenge. With the LUBKE team on your side, you'll have access to cutting-edge options that can enhance both the aesthetic and efficiency of your lighting fixtures.
4. **Complete Support**: From initial concepts to final installation, the LUBKE Design Center Team will be with you every step of the way. Their commitment to delivering unparalleled service ensures a seamless and stress-free experience.
**Conclusion**
Creating a custom home on the water is a journey of transformation and self-expression. The choices you make, including lighting fixtures, shape the character and ambiance of your space. With the guidance of the LUBKE Design Center Team, you can elevate your waterfront home to a realm of timeless beauty and comfort. By embracing the power of exquisite lighting fixtures, you'll not only illuminate your surroundings but also illuminate your life by the water.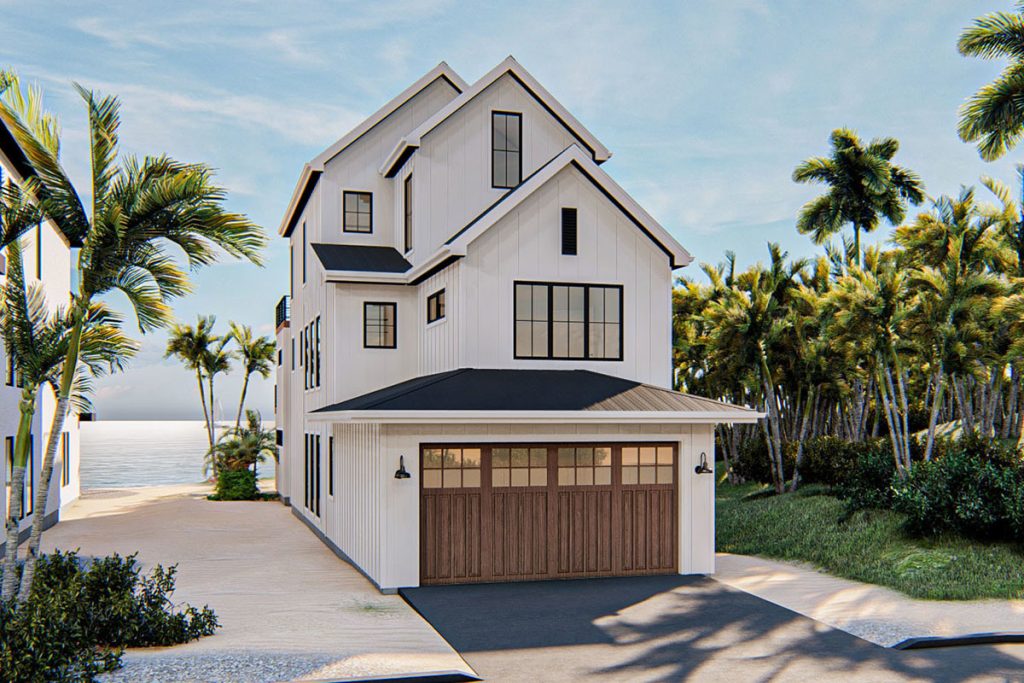 Maximizing Space: Creative Design Solutions for a Custom Home on the Gulf Coast of Florida with a limited in size property lot.
Introduction:
Building a custom home is a dream for many, but the available limited-in-size property lots often seen on the barrier islands of the Gulf Coast can pose a unique design challenge. However, building a luxury custom home on a smaller lot on Florida's breathtaking Gulf Coast doesn't mean sacrificing comfort or style. In this blog post, we'll explore creative design solutions to maximize space and create a functional, inviting, and beautiful custom home that embraces the coastal lifestyle.
Embrace Open Concept Design
   When dealing with limited square footage, consider an open-concept layout that combines multiple functional areas into one fluid space. Removing unnecessary walls creates an airy and spacious ambiance, making the home feel larger than its actual size.
Focus on Clever Storage Solutions
   Effective storage is essential in small custom homes. Incorporate built-in shelves, under-stair storage, and floor-to-ceiling cabinets to optimize every inch of available space. With the FEMA Firm 2.0 guidance, your ground floor will provide plenty of storage.
   Maximizing natural light can make a small space feel more open and inviting. Large windows and glass doors allow sunlight to flood the interior, creating an airy and cheerful atmosphere.
Extend Living Spaces Outdoors
   Embrace the beautiful Gulf Coast weather by designing outdoor living spaces as an extension of the home. A well-designed patio, deck, or balcony can serve as an additional entertainment area, perfect for enjoying sunsets and ocean views.
Choose Light Color Palettes
   Light and neutral color schemes visually expand a room and make it feel more spacious. Opt for soft pastels, whites, and light blues to reflect the coastal environment and enhance the sense of openness.
Incorporate Multi-Level Design
   Consider multi-level design solutions to create visual interest and make the most of vertical space. A loft or open tower can provide additional space and views
   Custom-built furniture and cabinetry tailored to the home's dimensions ensure a perfect fit. Custom solutions allow for efficient use of space and can be designed to accommodate specific needs and lifestyle preferences.
   Design the layout to optimize sightlines towards the Gulf Coast's scenic views. Orientating living areas and bedrooms towards the water can enhance the overall living experience and make the home feel more connected to its natural surroundings.
    Embrace smart home technology to streamline and simplify daily living. Automated lighting, temperature control, and security systems save space and add convenience to daily routines.
Conclusion:
Building a small custom home on Florida's Gulf Coast offers an opportunity to create a charming and practical living space that celebrates the beauty of the coastal environment. By implementing these creative design solutions and prioritizing space optimization, homeowners can enjoy a functional and stylish custom home that maximizes every square inch and embodies the spirit of coastal living. With the right design, a limited-in-size property lot can become a place of comfort, relaxation, and cherished memories for years to come.
Connect with us today to learn how we can design|build a home for you that will fulfill your dreams and needs even if your lot has limited property lines.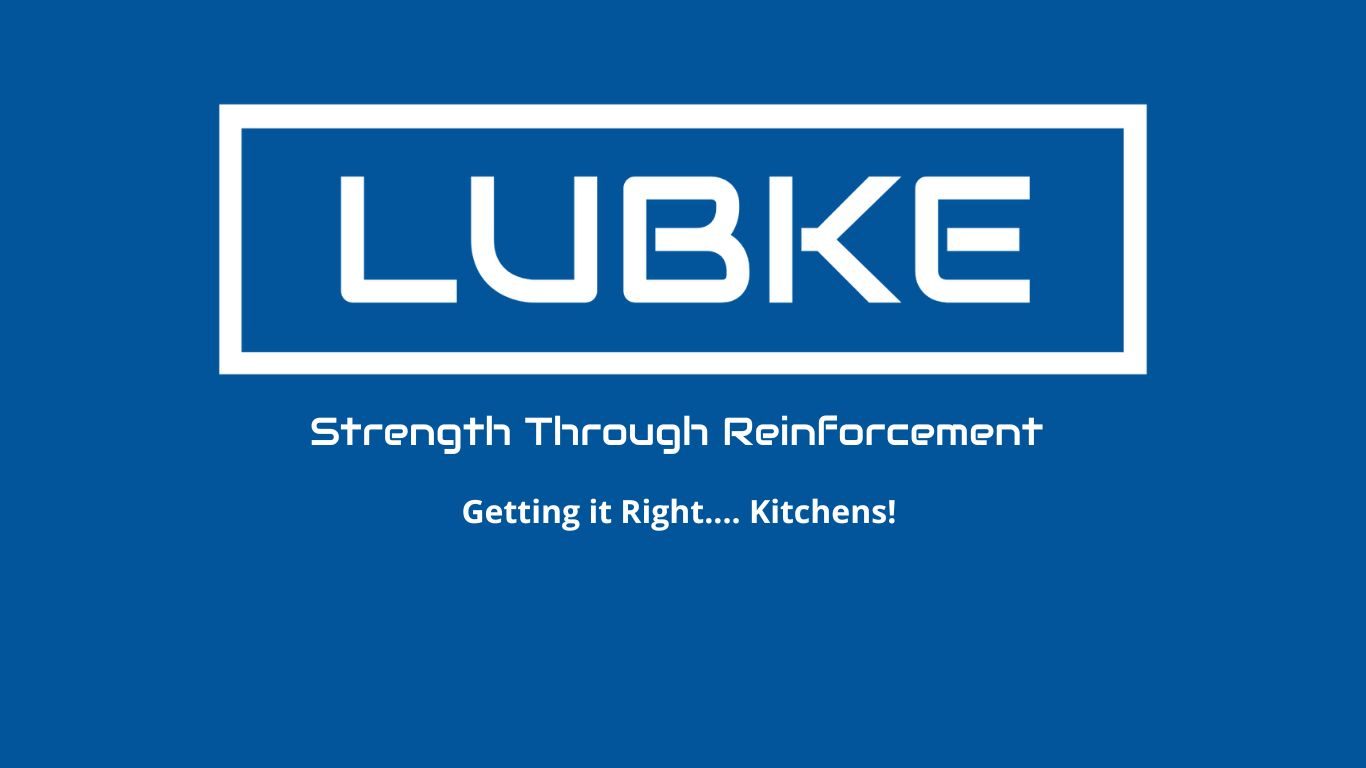 Designing a kitchen for a new custom luxury home requires careful attention to detail and a focus on creating a space that is not only functional but also exudes elegance and sophistication. Here are some factors that should be considered for the kitchen design:
Space Planning and Layout: Assess the available space and layout options to determine the most efficient and aesthetically pleasing arrangement for the kitchen. Consider the work triangle (the relationship between the refrigerator, stove, and sink) to ensure a smooth workflow.
High-End Appliances: Luxury homes often feature top-of-the-line appliances with advanced technology and premium finishes. Consider including high-end brands and features like built-in espresso machines, wine coolers, and smart home integration for the kitchen.
Premium Materials: Opt for high-quality materials that elevate the kitchen's look and feel. This might include luxurious countertops like marble or granite, custom cabinetry with intricate detailing, and high-end fixtures and hardware.
Ample Storage: Luxury kitchens should have ample storage to keep the space clutter-free and organized. Include custom cabinets, pull-out drawers, and clever storage solutions to accommodate the homeowner's needs.
Smart Technology: Integrate smart technology into the kitchen design, such as touchless faucets, voice-controlled appliances, and automated lighting and blinds.
Lighting Design: Pay close attention to the lighting design to create an inviting ambiance. Combine task lighting for food preparation areas, ambient lighting for a warm atmosphere, and accent lighting to highlight architectural features or artwork.
Entertaining Space: Consider the kitchen's role as a space for entertaining guests. Incorporate a kitchen island or a bar area with seating to facilitate interaction and socialization during gatherings.
Flooring and Backsplash: Choose premium flooring materials that are not only beautiful but also durable and easy to maintain. For the backsplash, consider using luxurious materials like glass tiles or mosaic designs.
Ventilation: Proper ventilation is crucial, especially in luxury kitchens where elaborate cooking may take place. High-quality range hoods or ventilation systems should be installed to keep the air clean and free of odors.
Personalization: Working closely together the designer and homeowner should seek to understand specific needs, preferences, and lifestyle. Tailor the kitchen design to reflect individual taste and personality.
Energy Efficiency: Despite the luxurious nature of the home, incorporate energy-efficient appliances and lighting to reduce the home's environmental impact and operating costs.
Integration with the Overall Home Design: Ensure that the kitchen design complements the overall architectural style and interior design of the custom luxury home, creating a seamless and harmonious living space.
By considering these factors and collaborating closely with the homeowner, the LUBKE designer can create a stunning, functional, and luxurious kitchen that becomes the centerpiece of the custom luxury home.
LUBKE is ready to design and build your next home.
LUBKE has a proven process and experience to execute all of these considerations.
Contact us today for more information!
Roger Peace 
Director of Client Services
727.902.3007
info@lubkeconstruction.com

Recently in a conversation, I was asked what are the benefits of using a Design|Build company like LUBKE. Here are a few of the thoughts I shared.
Streamlined Process: LUBKE can handle both the design and construction phases, resulting in a more efficient and integrated process. It eliminates the need for separate contracts and coordination between designers and builders.
Cost and Time Savings: LUBKE can deliver projects more quickly and cost-effectively. With a single entity responsible for both design and construction, communication is smoother, and potential issues can be addressed more proactively.
Collaboration and Accountability: LUBKE fosters collaboration between architects, engineers, and builders from the early stages. This integrated approach enhances accountability, ensuring that everyone is aligned toward achieving the client's goals.
When choosing a design-build company like LUBKE clients should consider the following:
Experience and Expertise: Assess the company's portfolio, experience, and relevant expertise in the type of project you have. Look for successfully completed projects and check references. Check out our work here!

LUBKE's experience in building coastal, custom luxury homes can be seen up and down all of the FL Gulf Beaches, you can't drive far without seeing the LUBKE blue sign and our signature designs.

Communication and Collaboration: Inquire about the firm's approach to communication and collaboration with clients. Clear and open lines of communication are crucial throughout the project. At LUBKE we utilize BuilderTrend for client interaction and satisfaction. The entire company is aligned using the EOS Platform for internal accountability, communication, and working on the company to best meet our client's needs. LUBKE's commitment to client communication and collaboration can be evidenced in the fact that we have a full-time Director of Client Services committed to seeking to serve our clients for a great client experience.
Project Management and Timeline: Discuss the firm's project management practices, including how they handle timelines, milestones, and potential delays. Ask about their strategies for staying on track and handling unexpected challenges. LUBKE is committed to schedules, scorecards, and accountability at all levels of the company to ensure timelines and milestones. The use of systems like EOS and BuilderTrend provides opportunities for greater efficiency and effectiveness. For example, every project has a detailed schedule that includes design, construction, purchasing, and management from the office to the field and every trade-partner. With 500+ scheduled items per home, systems make all the difference.
Cost Estimation and Value Engineering: Seek transparency in the cost estimation process. Inquire about how the firm handles cost control and value engineering to ensure the best value for your investment. LUBKE provides a very detailed build proposal that includes every aspect of the home build, from the start to move-in day. A LUBKE build proposal is comprised of 6-8 pages of details including every line item from permitting, structure, finishes, fixtures, and everything in between to have your home move-in ready!
Licensing, Insurance, and Certifications: Verify that the firm holds the necessary licenses, insurance, and certifications required for your project, ensuring compliance with local regulations. LUBKE is fully insured and holds every trade partner to the highest standards of the industry.
Lubke is ready to serve you as your premier Design|Build partner. Contact Roger Peace our Director of Client Services to engage in the next steps of designing and building your future dream home.
Roger Peace – Director of Client Services
Email: roger@lubkeconstruction.com
Phone: 727.902.3007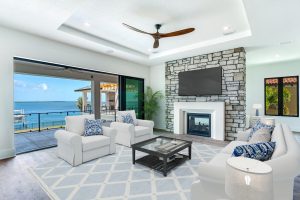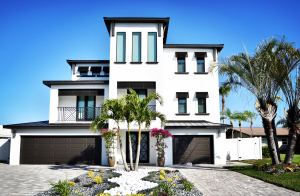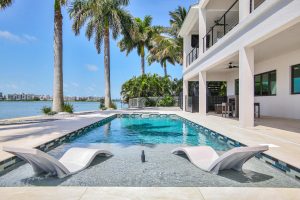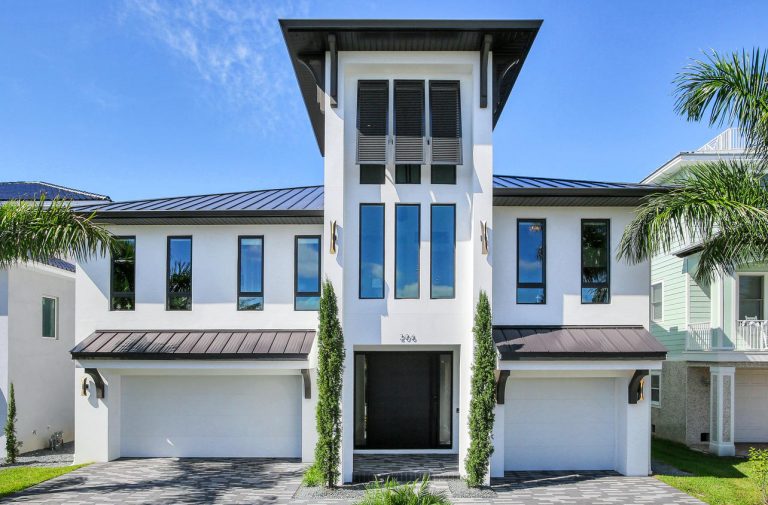 While many of our clients are building their "Forever Homes", there are several Lubke homes that have been re-sold by the original owners that have broken various price records.
In July of 2021, this Lubke home located at 206 Sydney Lane, Redington Shores sold. Its resale set the record for waterfront homes in the six beach communities between Madeira Beach and Indian Rocks Beach. This two-year-old home was on the market for just 11 days before it went under contract for $2,800,000.
The thing that is more interesting than the record-breaking sales price for this re-sale home, is what the home did not have. With 3,725 square feet of conditioned space and a narrow 60' canal without a spectacular view, this was not an exceptionally large home.
What this home did not have in land and size it made up for in forward-thinking design, with clean lines and great attention to detail. Lubke homes are known as the gold standard for strength and quality on the barrier islands, and buyers recognize this.
Ready to build the home of your dreams? Let's talk about your vision!
Found in the world's most luxurious homes, these icons of design and paragons of performance are sure to take your kitchen to the next level. From the first toast to the final bite, relish every moment and meal with Sub-Zero refrigeration and Wolf cooking!
Since 1945, Sub-Zero has been known for some of the best, highest quality refrigeration. In 2000, they introduced Wolf cooking appliances, bringing professional temperature control into the hands of home cooks.
Through the years, Sub-Zero has expanded its design leadership with integrated refrigeration that blends in seamlessly with your décor. Your kitchen can be anything you imagine thanks to the countless choices from Sub-Zero.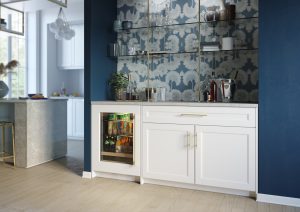 Take their Undercounter Refrigeration, for instance, which spans from wine storage to ice makers, beverage centers, and more! These appliances are fully customizable with panel-ready doors for an integrated look within your cabinetry and can be seamlessly paired side by side to suit your exact storage needs. In addition to precise temperature control and an intuitive, on-door touch control panel, Wi-Fi enabled features allow you to adjust independent temperatures zones, receive important door-ajar notifications, and more — all from your mobile device.
Refined by more than eight decades of commercial kitchen experience, the technology, durability, and design of Wolf make it the ideal kitchen companion to Sub-Zero. Wolf equips cooks with the confidence to create the meals that the most delicious memories are made of.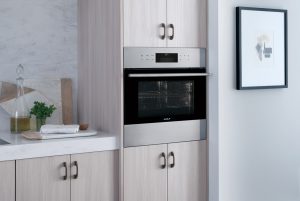 The Wolf E Series Transitional Built-In Oven offers a sleek minimal aesthetic outside with enhanced cooking performance inside. With Wolf's integrated Gourmet Mode, beginners and pros alike can take advantage of the nearly 50 chef-tested presets that automatically cook a delicious set of impressive dishes. Wi-Fi enabled features also allow users to remotely control certain settings, receive alerts and explore chef-created resources and recipes made specifically for the oven, all from their mobile devices.
"As always, Sub-Zero, Wolf, and Cove represent the pinnacle of meaningful luxury," says Tim McDonough, Senior Vice-President of Marketing and Product Innovation. "Our products are built with a singular goal: to provide the highest-caliber, specialized luxury home appliances in the marketplace."
Sub-Zero Group, Inc., is continually recognized for the highest achievements in appliance innovation and customer satisfaction.
For more information about Sub-Zero and Wolf, visit subzero-wolf.com.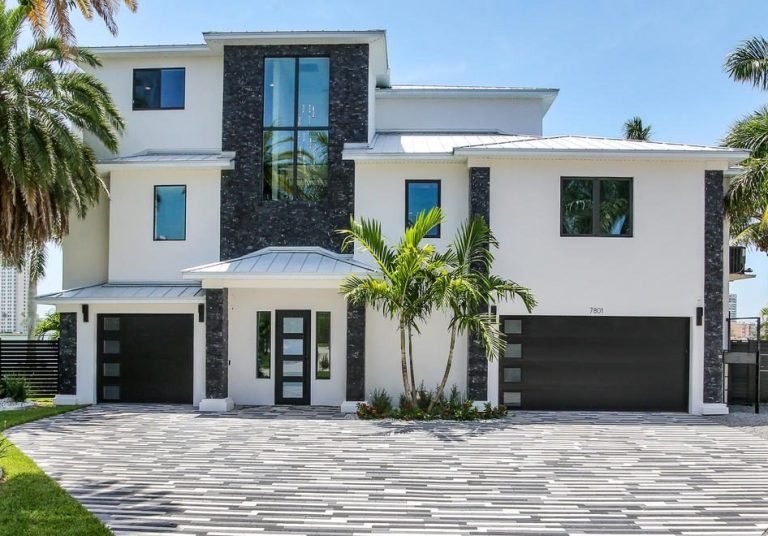 While many of our clients are building the forever home of their dreams, there are Lubke homes that have been re-sold by the original owners at record-breaking values.
In 2020, this Lubke home set a record for the highest dollar per square foot in the eight towns between St Pete Beach and Indian Rocks Beach. When our team designed and built this home, the focus was on creating something truly unique.
Features like all black cabinets, a three-story tall entryway with a 35' tall stone feature, and a climate-controlled standalone wine cellar really set this home apart.
Looking to build? Let's talk about your vision!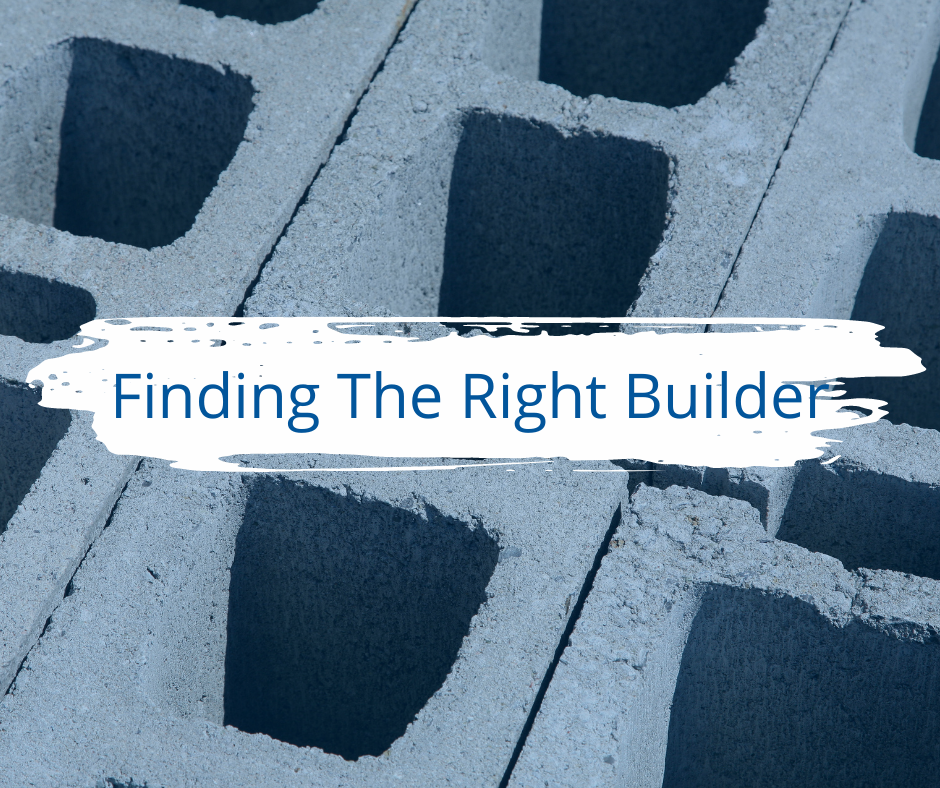 Finding The Right Builder can be tough, and a Google search for custom home builders can be overwhelming! While there are many eager home builders, unfortunately not all of them are qualified.
Building your custom waterfront home along the Gulf Beaches is no easy task! You want to work with a team that will build a home that reflects your style while meeting the needs of the unique waterfront conditions.
Here are some warning signs that the builder might not be your best choice:
No Listening
A successful custom waterfront home is not achieved without input from the homeowner. For the home to be exactly what you need, your builder must listen to and value your input.
No Digital Footprint
Do they have a website? Are they active on social media? These are helpful tools you can use to gauge the builder's competency. If there are no photos of previous work, how can you tell what they are capable of?
No Permits
When building a custom waterfront home, pulling permits with the local municipality is a must! This ensures that building codes are adhered to, and the home can eventually be approved by the inspector. A contractor that ignores permits could be cutting more corners than you know!
No Experience
While this may be your first time building a custom waterfront home, it should not be your contractor's first rodeo. There are many requirements to build a waterfront home, and a team with experience can deliver the best results.
No Client Feedback
A good builder doesn't have to tell you, their clients will! If your contractor doesn't have anyone to vouch for them, can you really trust they have what it takes to build your custom waterfront home? Be sure your builder has reputable referrals and good reviews from comparable projects.
No Problem-Solving
Things happen while building a custom home, and your builder should work proactively to find a solution if problems arise. A builder's poor planning can become your headache, so work with a team that has what it takes to get the job done.
At Lubke, we value your opinion. You can find testimonials from our clients on our Media page, and if you follow us on social media, you can see what we're up to! We've built many custom waterfront homes in the Tampa Bay area, and our team of experienced professionals is ready to get started on your custom waterfront home today!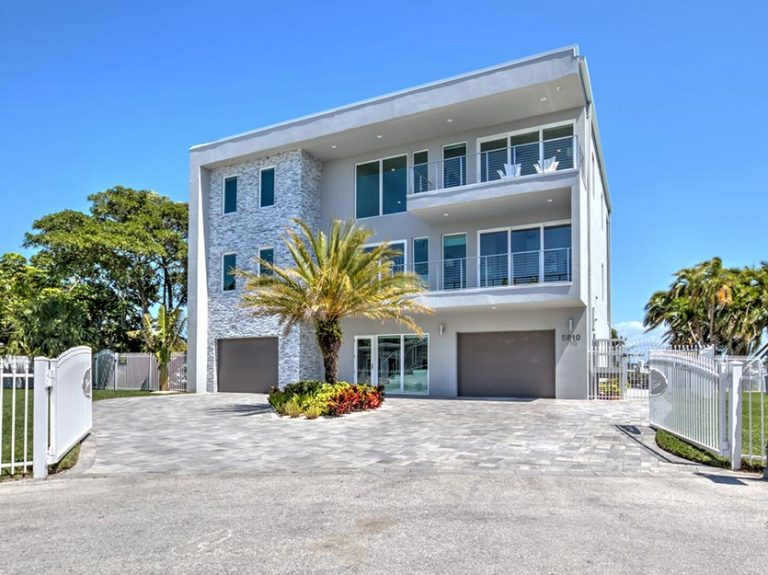 While many of our clients are building the forever home of their dreams, there have been Lubke Homes that were sold for astonishing figures.
In 2020, this five bedroom, four bathroom Lubke Home in St. Pete Beach sold at full asking price in just 12 days for 2.85 million dollars!
Luxurious and contemporary, the executive estate was built in 2017 across two lots and .35 acres. It enjoys 233 feet of beautiful water frontage with a fantastic view. Plus, it's within walking distance of restaurants, shopping, and the sugar white sands of St. Pete Beach!
Click here to see more Lubke Homes!
Ready to build the home of your dreams? Let's talk about your vision!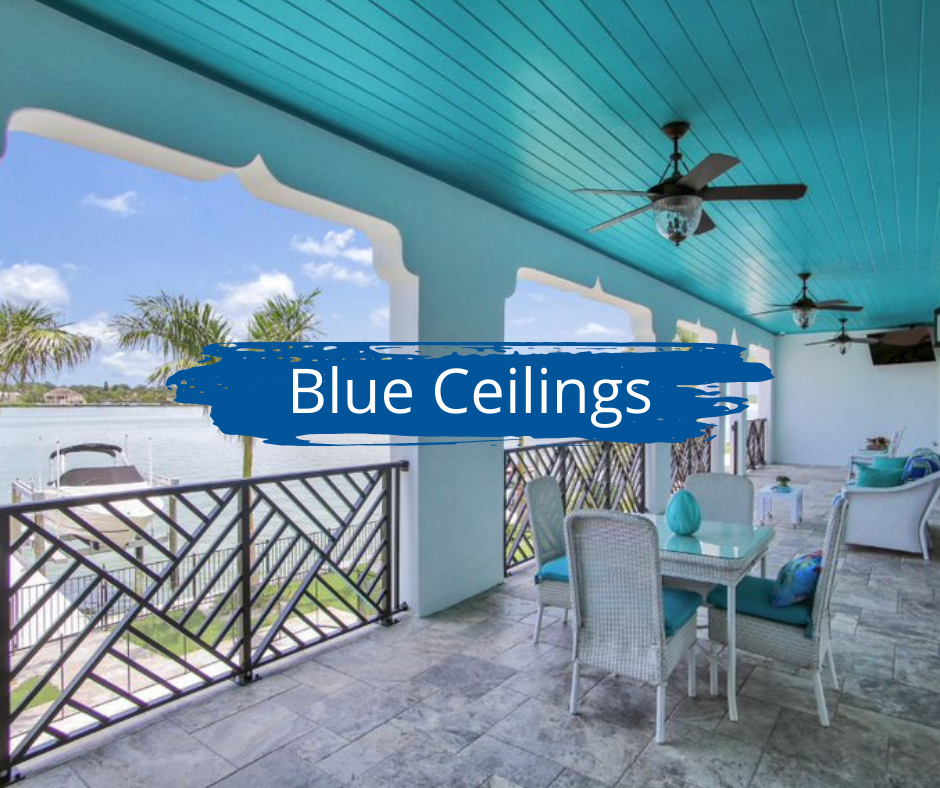 Have you ever seen a home with a light blue porch ceiling? Well, it might not just be for design aesthetic or curb appeal…
It's believed that certain insects and birds will avoid nesting near a light blue ceiling. Why? They think the ceiling is the sky! Really, though, the paint was historically mixed with lye, a natural insecticide. A lye-based paint would have made for an uninviting space for pests!
Along with the benefit of insect/pest repellant, light blue gives the impression of extended daylight.
"Haint Blue" is a popular shade in southern states like Georgia or South Carolina, originally believed to ward off ghosts or evil spirits. Many use it to this day to uphold the tradition.
While there may be benefits to using a blue paint on a porch ceiling, the choice may be more aesthetic than anything.
When designing your custom home, consider a blue ceiling to give your home a southern charm!