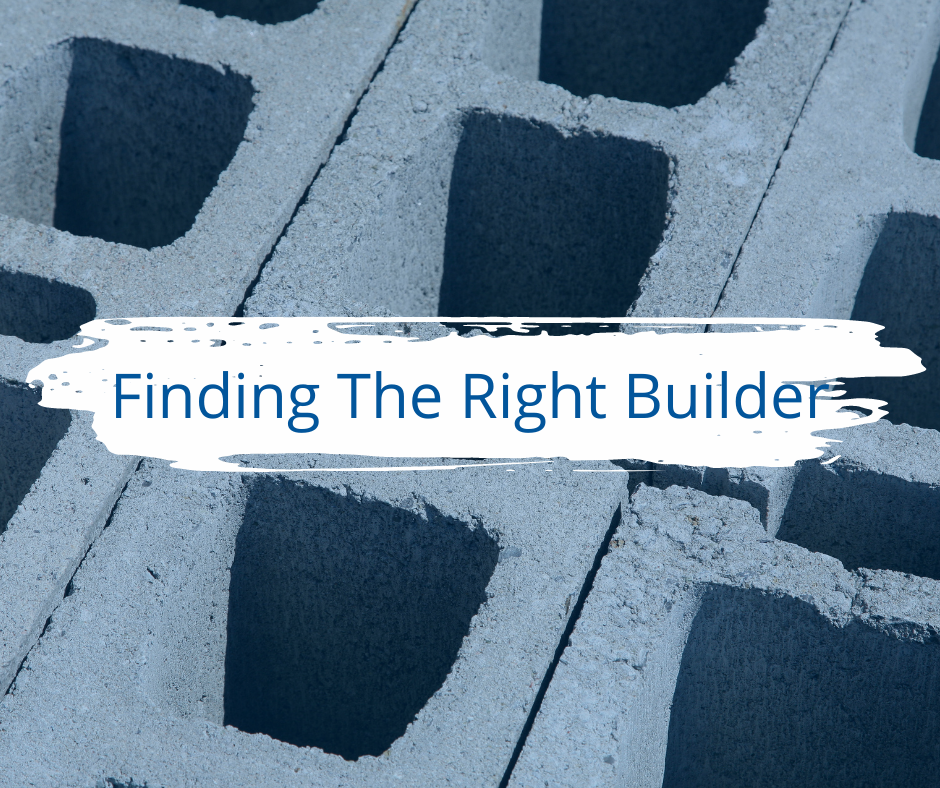 Finding The Right Builder can be tough, and a Google search for custom home builders can be overwhelming! While there are many eager home builders, unfortunately not all of them are qualified.
Building your custom waterfront home along the Gulf Beaches is no easy task! You want to work with a team that will build a home that reflects your style while meeting the needs of the unique waterfront conditions.
Here are some warning signs that the builder might not be your best choice:
No Listening
A successful custom waterfront home is not achieved without input from the homeowner. For the home to be exactly what you need, your builder must listen to and value your input.
No Digital Footprint
Do they have a website? Are they active on social media? These are helpful tools you can use to gauge the builder's competency. If there are no photos of previous work, how can you tell what they are capable of?
No Permits
When building a custom waterfront home, pulling permits with the local municipality is a must! This ensures that building codes are adhered to, and the home can eventually be approved by the inspector. A contractor that ignores permits could be cutting more corners than you know!
No Experience
While this may be your first time building a custom waterfront home, it should not be your contractor's first rodeo. There are many requirements to build a waterfront home, and a team with experience can deliver the best results.
No Client Feedback
A good builder doesn't have to tell you, their clients will! If your contractor doesn't have anyone to vouch for them, can you really trust they have what it takes to build your custom waterfront home? Be sure your builder has reputable referrals and good reviews from comparable projects.
No Problem-Solving
Things happen while building a custom home, and your builder should work proactively to find a solution if problems arise. A builder's poor planning can become your headache, so work with a team that has what it takes to get the job done.
At Lubke, we value your opinion. You can find testimonials from our clients on our Media page, and if you follow us on social media, you can see what we're up to! We've built many custom waterfront homes in the Tampa Bay area, and our team of experienced professionals is ready to get started on your custom waterfront home today!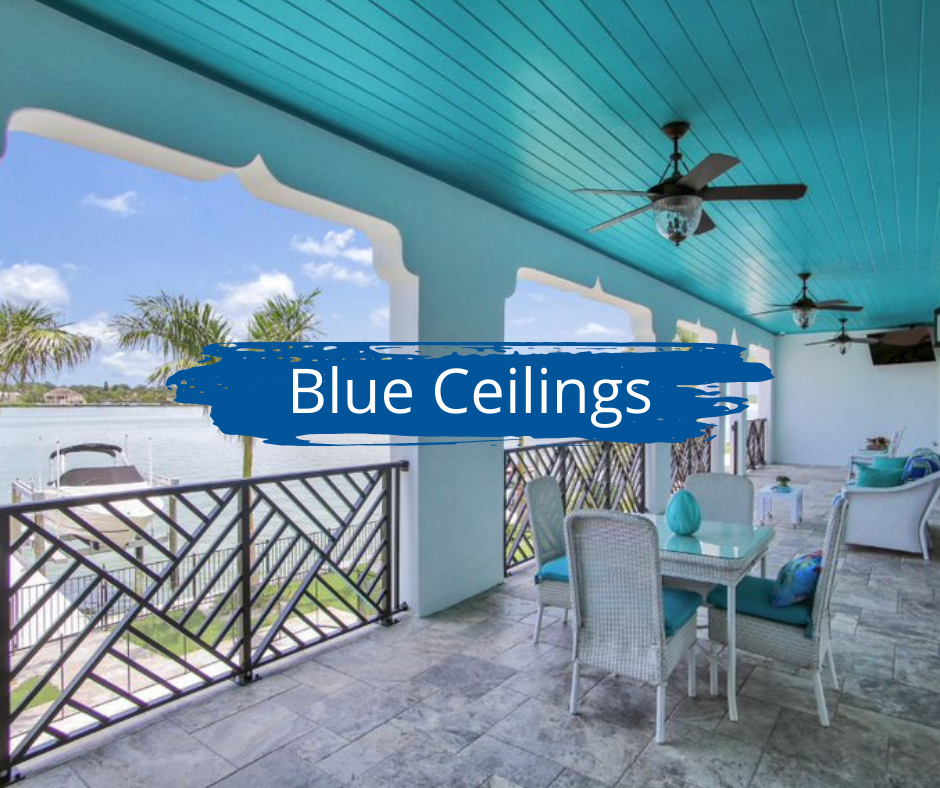 Have you ever seen a home with a light blue porch ceiling? Well, it might not just be for design aesthetic or curb appeal…
It's believed that certain insects and birds will avoid nesting near a light blue ceiling. Why? They think the ceiling is the sky! Really, though, the paint was historically mixed with lye, a natural insecticide. A lye-based paint would have made for an uninviting space for pests!
Along with the benefit of insect/pest repellant, light blue gives the impression of extended daylight.
"Haint Blue" is a popular shade in southern states like Georgia or South Carolina, originally believed to ward off ghosts or evil spirits. Many use it to this day to uphold the tradition.
While there may be benefits to using a blue paint on a porch ceiling, the choice may be more aesthetic than anything.
When designing your custom home, consider a blue ceiling to give your home a southern charm!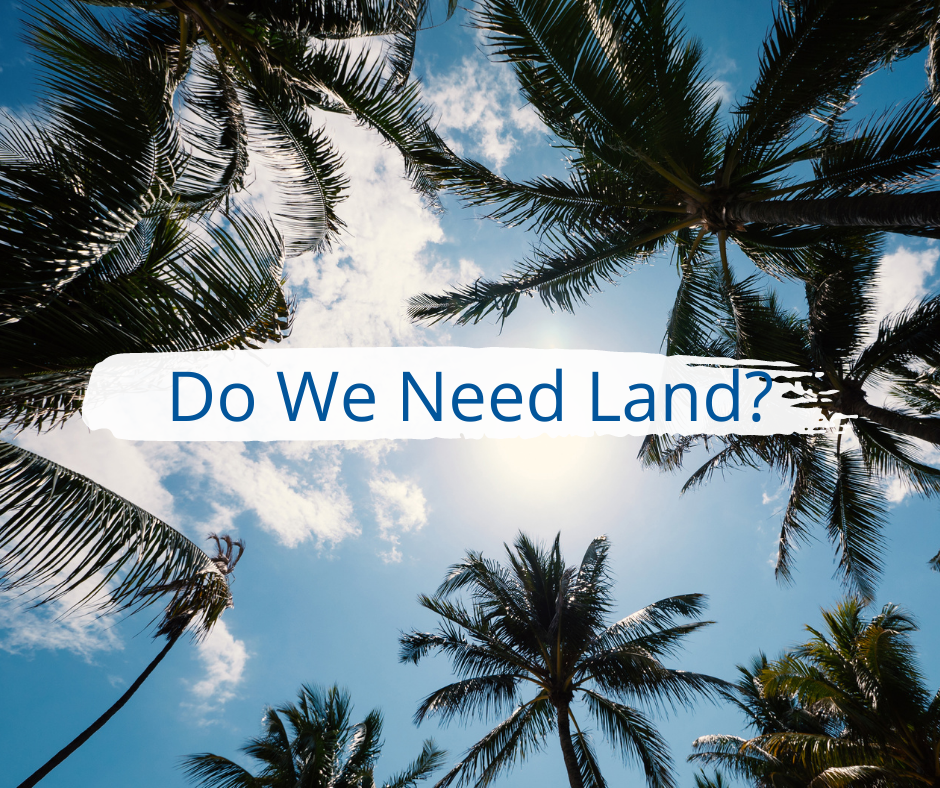 Many clients ask if they must provide the land for their build. While there is no right or wrong answer, here are a few ways you might approach the process: 
Selecting Your Builder before Purchasing a Lot: 
We are always keeping an eye on the market for lots in our area, and sometimes even have access to land acquisition before it becomes available for public purchase.  Our knowledge of the unique coastal environment and experience with local municipalities helps us determine which lots present the best conditions for your build.  
Purchasing a Lot before Selecting Your Builder: 
There may come a time when you find the perfect lot before you have chosen a builder. That is ok, too! If you purchase your lot first, you have the benefit of exploring the lot throughout the design process. Getting our team on-site to see what the lot has to offer is a great way to discuss ideas for your custom home. 
Designing Your Home First: 
Some might like to have their home designed before finding their lot. In this case, the home would be designed based on your vision and less on the lot placement. If this is the route you take, be ready to make design adjustments based on the environmental requirements of the lot you select. 
Regardless of the path you choose, Lubke Construction's team of experts is here to help you make your dream home a reality. We use online software to keep our clients updated on schedules, budgets, and selections throughout the home building process. We specialize in custom homes on piling foundation systems in Pinellas County. 
Whether you are looking for a lot, or already have one, let's talk about your vision!  
Contact Us today to schedule a consultation.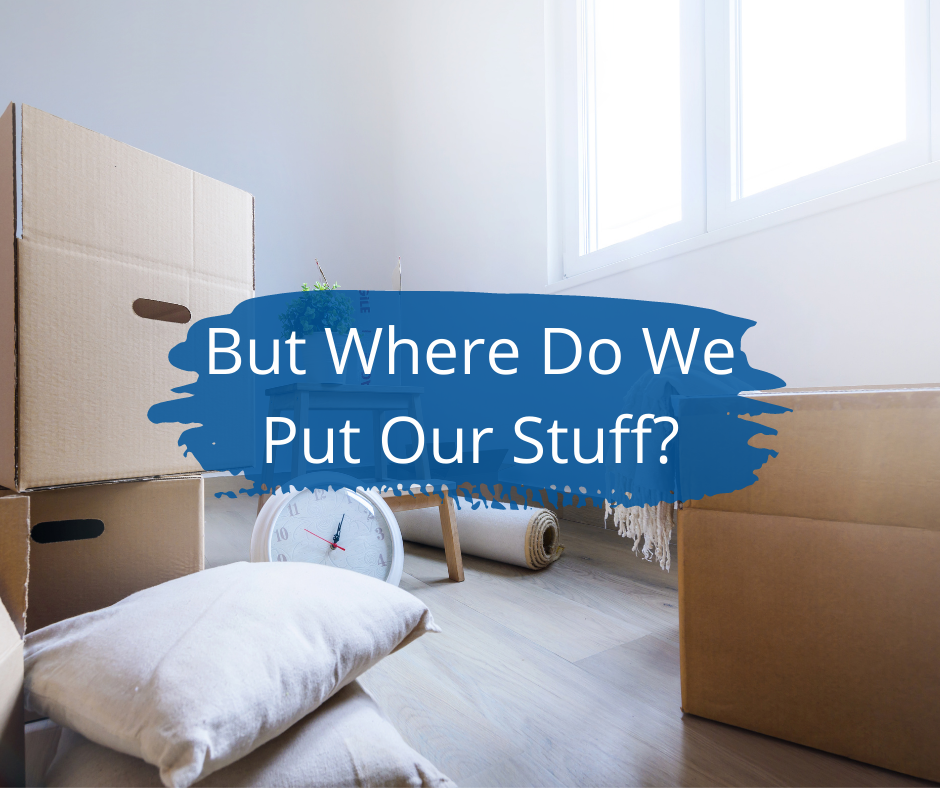 While building a new home is exciting, it can also take time! Add in the supply chain issues the industry has been facing, and it can lead to quite the delay. 
With the current "Seller's Market", many are accepting offers (at or above the asking price) almost immediately. While this is great for the seller, it does not solve the issue many will face when building a custom home.   
If your current home sells before your new one is ready, you may need to find a place to keep your things! The good news is, compared to the past, there are many options available to make your transition easier. 
You might want to consider a portable storage container. Most portable storage containers can be delivered directly to your home!  Once you have them loaded with your belongings, they can be transported to a storage facility before being delivered to your new home upon completion. 
So, if your current home sells much faster than you anticipated…or if supply chain issues are delaying your build, you need not worry! Simply look up portable storage containers in your area to find a solution near you.  
Then, you can find a fun Air BNB to stay in while you wait. Think of it as a staycation! 

With initiatives to "Go Green" stronger than ever, there has never been a better time to consider your home's energy efficiency! Being mindful of your energy consumption has many benefits.  Not only can you feel good about improving your environmental impact, but you can also save money too!  
We gathered a few Energy Saving Tips to keep in mind when dreaming up your custom home:
–Solar Panels: Here in the Sunshine State, we have plenty of sun to go around! Placing solar panels on your home can have a great impact on your cost of heating and cooling your home.   
–Insulation: Using the proper insulation can make or break the energy efficiency of a home. A home that is under-insulated will require the cooling system to work a lot harder to keep the temperature consistent.  Utilize a material with a high R-rating for the most efficient insulation to reduce energy loss and save on your home cooling costs! 
–Choose ENERGY STAR Appliances: The Environmental Protection Agency created the ENERGY STAR rating system in 1992.  Each product must be certified regarding quality, savings, and performance before it earns the ENERGY STAR label.  Choosing ENERGY STAR Appliances assures your larger appliances will not drain your home's system and inflate your energy bills. 
–Energy-Efficient Windows: Not only does the ENERGY STAR rating system apply to appliances, it is also used to rate the energy-efficiency windows! Using ENERGY STAR-rated windows will help keep your bills low with additional insulation, limiting heat transfer into your home.  
–On-Demand Water Heater: A traditional water heater can cost up to $350 a year to operate, while an on-demand water heater will cost closer to $220 a year. Over time, that difference will add up! An On-Demand Water Heater only heats the water when you need it, eliminating the need to pre-heat and store water at a higher temperature. 
–Metal Roofing: Roofs in Florida tend to take quite a beating from the sun.  Metal Roofs reflect heat away from the home, making them a great option to increase your home's energy efficiency. It has been reported that metal roofs can reflect as much as 83% of the sun's energy! 
–Natural Light: Whenever possible, rely on Natural Light! If your space does not have very many windows, you can utilize mirrors to help reflect the light throughout the area. 
Curious to learn more about the Energy-Efficient options we offer with our custom homes? Let's talk about your vision!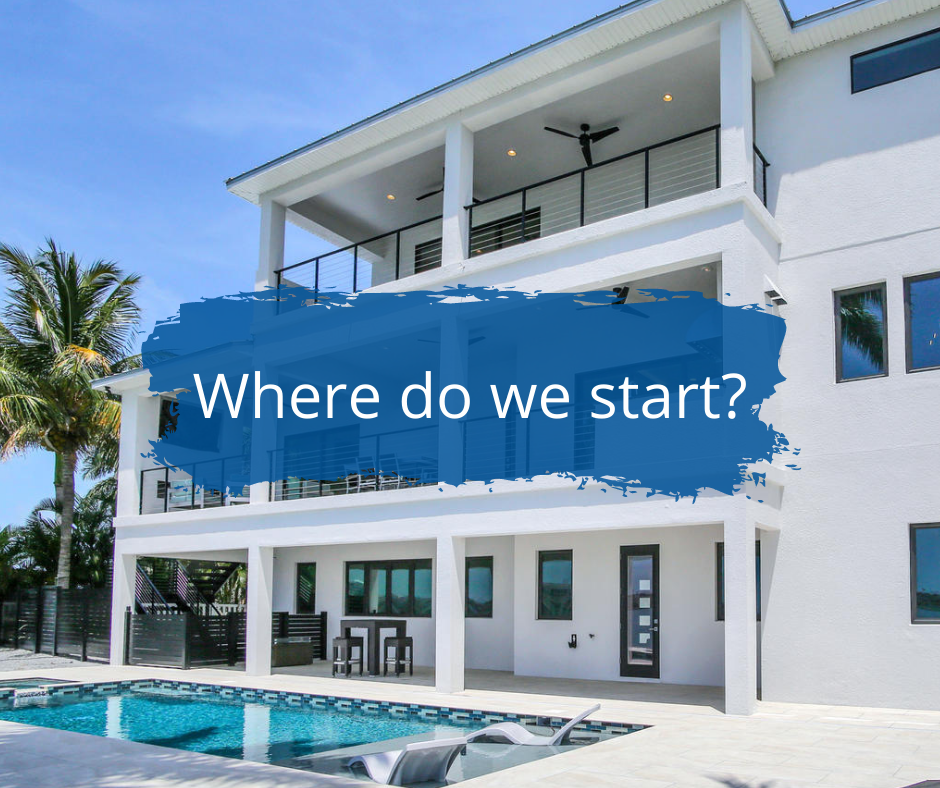 Thinking of Building Your Custom Waterfront Dream Home? Here Are 5 Things To Know When Getting Started
Deciding between purchasing a pre-built home or building from scratch can be challenging. While buying a pre-existing home has its advantages, having a home designed and built to your exact specifications is the most desirable choice when searching for your dream home. The custom options available allow you to create a property that fits your exact preferences, style, and budget. And although this may sound like a complicated process, working with the right construction and design team can make it feel effortless.
If you're considering the idea of building a custom waterfront dream home, Lubke Construction outlines five things to know when getting started.
Know where you want to live
Before drafting blueprints and exploring design plans, the most important thing to do is find where you want to live. Location is such a critical factor in a number of decisions you'll ultimately need to make during the home-building process. Search for spaces of land that can accommodate all your must-haves, including desired square footage, an in-ground pool, a spacious patio area, and more.
Additionally, you will want to find land in a neighborhood that is close to your favorite businesses and that fits your needs. Location will affect the cost of your project, so you will want to know how much you will be spending on your land before diving into designing your home.
Work with your builder from day one
It is best to work with your builder from day one. Rather than hiring an architect first and a construction company second, hiring a team that can coordinate all elements ensures a seamless and stress-free project.
As an all-encompassing construction company, Lubke Construction provides you with all the experts you need to design and build a stunning home. This includes everyone from your interior designer, to your design professional, to your construction manager. Having all experts working with one another from the start is a smart way to eliminate the risk of preventable miscommunications and delays.
Set your budget and consider your loan options
After selecting your land/neighborhood and choosing a construction company, get a concrete idea of your budget. Even though you likely have a general budget in mind, this is the time to establish your set budget range. Having this figure allows you to make informed decisions about your home's layout, design elements, and features.
Another critical part of building a new home is finding the best loan option. Instead of taking out a standard mortgage, consider applying for a construction-to-permanent loan. This type of loan pays your builder as they complete work. Once your home is finished, the costs are rolled into a standard mortgage loan. It is important to note that this kind of mortgage is more challenging to get approved for. Requirements for your credit score, income, and the like are meticulously evaluated, so be sure to speak with multiple lenders to see if you qualify.
Browse available home styles and floor plans
Now, the fun part: choosing a floor plan for your home. This is the stage during which you can customize everything from your flooring, to your bathroom fixtures, to your countertops. During this time, you can also request design guidance for expert advice.
Consider all timelines involved
Timelines for building a home can vary significantly. The time it takes to complete your home will depend on numerous variables, which can change the estimated date of completion. When planning to sell your current home, stay in close contact with your project managers to know when it is best to put up your listing
For those who desire the ultimate waterfront dream home, building a new property is easily the best choice. Being able to live in a home that you've designed from the ground up is a rewarding and outstanding experience.
Lubke Construction specializes in building fully custom luxury homes along the Gulf Beaches waterfront. Ready to begin designing your dream home? Contact our team today.
Guest blog provided by:  Megan Cooper (www.reallifehome.net)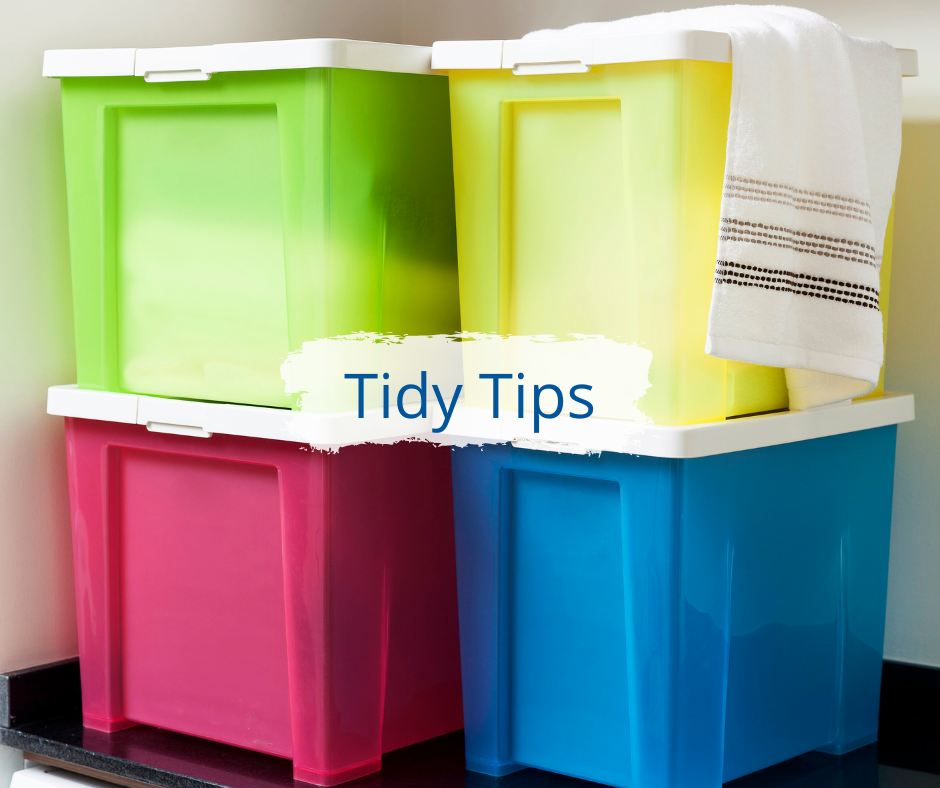 We all dislike clutter, but keeping tidy can be quite the chore if things get out of control. Here are some Tidy Tips to help stay organized in your new custom home:
–A Place for Everything: When planning the design of your home, it's the perfect time to consider your storage needs. Love Holiday Decorations? Have an impressive collection you'd like to show off? Our Team will help come up with a storage solution that suits your needs.
–Start By Making the Bed: As the old saying goes, "If you want to change the world, start by making your bed." Once you are in your new home, this simple practice is a great way to establish tidy habits.
–Bring It Out, Put It Back: Like we discussed before, you should plan to have a dedicated location for every item you own in your new custom home. If you do, it will be easier to return things to their rightful place. A good rule is to put everything you bring out back where it belongs. Clutter doesn't happen overnight, so keeping this in mind every day helps to avoid a mess.
–Go Paperless: These days, we live in a digital world. So many documents we used to keep track of physically are now delivered and stored in the virtual realm. With that in mind, it's a good time to downsize your paper collection. We realize you must keep some important documents, so be sure to utilize a safe or cabinet to help you stay organized.  Make sure it's fireproof, too!
–When In Doubt, Donate It: If you no longer love it or need it, but there's still life left in the item in question…toss it in the donation bin! Keeping space for donations helps you gather things like outdated clothes, holiday decorations you no longer use, or old electronics.  Once the bin is full, you know it's time to take it to your favorite local charity for donation.
–Call for Backup: Don't be afraid to call in the reinforcements when you need a hand. Most cleaning companies are flexible with how frequently they visit, so think about a program that works for your needs. Think of all the things you can do while they tackle the job for you!
The task of staying tidy is a never-ending game, and there are many more ways to stay organized than what we listed here. Hopefully we helped you think of a few new ways to stay tidy in your new custom home!