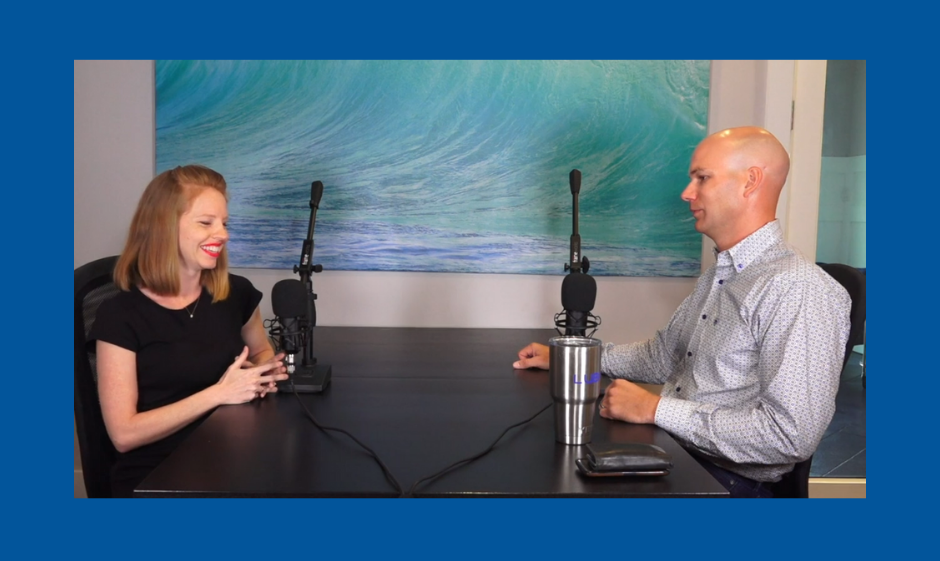 This blog post is a transcript of a conversation between Chad Lubke and Interior Designer Sarah Puglia.
Chad Lubke (CL): Sarah is an interior designer here at Lubke Construction. Sarah, why don't you tell us a little bit about yourself, where you're from and we'll go from there?
Sarah Puglia (SP): Absolutely. Well thanks for having me on Chad. Again, my name is Sarah and I'm a designer here at Lubke Construction. So, part of my background is I'm actually originally from Vermont, but I've been down here for over 20 years now. Love it. I went to Florida State, I graduated with my Bachelor of Arts degree in interior design and that's what I've been doing ever since. What started me on interior design, was I just love construction and new building.   My mom actually started a home renovation, and seeing that whole process go through to fruition, that's kind of what got me started on my love and passion for design.
CL: I know you're a traveler too, you've been to all these places in the world; did that play a role in some of the things that you think about when you're doing this?
SP: Oh absolutely. All the time. You know, you live life experiencing things and that's what kind of dictates your morals, your thoughts, and points you in your career path on how you want things to develop, for you personally. So yeah, travel is huge for me. I'm always gone weekends. But really, spending time with family, that's where my heart lies along with my passion for what I do here at Lubke.
CL: Awesome, so tell us a little bit about where you see the current state of design here in the Tampa Bay area.
SP: First, here's just a little bit of a background: around 10 years ago, we were heavy in the Mediterranean. Everybody was really wanting that more opulent, very color popping, Baroque kind of style. But now, everything is trending towards more simplistic, clean lines. Whether that's contemporary, which is the very far side of the spectrum, or kind of in between which is British West Indies style, which still has some elements of the traditional Mediterranean, but it's really calmed down and soothing. Those architectural features, such as arches or corbels, are what's pronounced on that. So kind of a blend of the two. But really, people are understanding what they want in their own specific designs.
CL: It seems like out here on the beach and the coast, people will go on vacation and then they'll come to you and say, "Oh, when I was in a certain hotel or resort, I saw this cool shower." I feel like from some of the stuff we're building ends up being more resort-like than like a traditional home.
SP: Absolutely, a resort-type memory at home.   Essentially, what they've experienced from those atmospheres, are what they want to bring in.   Again, it's more of that open, clean line, glass shower doors so you see everything, and just subtle pops of either texture or color, nothing that's overly done, but again, simplistic and elegant.
CL: Ok great lets go to the outside now, what do you see in pool areas? What are people wanting? What do you like? What are you seeing out there?
SP: Outdoor living, which is a huge upcoming trend across the nation. Being able to have plenty of space to entertain and having an outdoor kitchen. Also, having a pool with a streamlined look. Where it's not necessarily just your hot tub, and then three steps down is the next part of the pool, they want flow. But really, outdoor living spaces with entertainment areas, that's what's huge right now.
CL: Cool, I'm going to float an idea by you. I haven't told you about this one yet. I'm building our next house, and I like really linear pools, which goes with the contemporary lines and everything. But my wife, she thinks of things from a more practical standpoint. So, in this house we're building, you come in the front, it flows to the outside, and then you go out to the boat. I want this huge pool, but she doesn't want to have to walk around this pool to get to the boat. We're trying to figure out this design. So, I was thinking about doing a bridge. But not an arch bridge. I'm thinking about just doing some steps and a bridge, which would kind of be dual purpose. The kids could jump off the bridge and it would look cool. What are your thoughts? Is that crazy? What do you think?
SP: I actually kind of like it. It just depends on where the bridge is.
CL: I'm going to do it down the middle, so it would be a feature piece of the pool. Do you know what I mean?
SP: Yeah. Okay.
CL: That's just a wild thing I came up with. I ran it by Julie, she seems to be cool with it. It'll be our first pool with a bridge.
SP: I like the concept, for sure.
CL: Let's go to the inside now. As you were mentioning, we do contemporary, some ultra-modern (not a ton of it, but some of it), we're actually marketing some more of that now, even though we still get a lot of demand for Mediterranean and Key West.   So, looking at design magazines and looking at what's going on, can you fit these sleek lines into all of those styles on the inside regardless of the outside?
SP: Oh, absolutely. It's actually more the other way around. For example, you can't necessarily fit gargoyles in contemporary homes. The cleaner the lines, the easier it is to place in different styles of homes.
CL: It also seems like a thing that a lot of people are wanting is taller ceilings. It used to be a 10 foot ceiling was good, but now we're doing homes with 10 and 12 foot sliders. It's just astonishing, all these sizes and things. What are your thoughts on all that?
SP: Honestly, that goes back to the whole hotel scenario. People are going into these commercial buildings, constantly, for work or pleasure, and they see it and they want it. So there's that, and also, when you walk into a space that has 12 foot ceilings, it is just so eye catching, glamorous, and elegant. It's an architectural feature that just adds so much design.
CL: Tell us about some of the different details, such as linear lines in the ceilings, trays, inlays. Tell us about some of that stuff, some of your favorites. Different things that you're seeing out there.
SP: A couple of examples are coffered ceilings and beams. Beams are huge. Whether it's naturally exposed, or building with drywall and putting a cap of wood around. A faux-beam type of thing. It's just those little things. Having 10 or 12 foot ceilings allows for you to drop those architectural pieces in, without feeling claustrophobic. With 8 foot ceilings, it's nearly impossible.
CL: I've also noticed that we've been doing a lot more lighting in ceilings where you don't see bulbs, it's more indirect. What do you think? Why do people like that?
SP: All of the tape lighting and stuff that you see now, it's just indirect lighting. That's exactly why. There's not hot spots on the walls. You just have the lighting go up and into your coffers, then it goes up, hits the wall, and then comes down. So no one's getting these blind spots, and you're not seeing spots, that's a huge benefit.
CL: Let's talk about rooms. 95% of our stuff is either on the water, on the beach, or a golf course. So typically, the rear of our homes are where the views are going to be. So how are people laying out the rear of their homes? Obviously every room can't have a view, unless you have that perfect point lot somewhere by itself. What are you seeing, layout wise, on the rear of the homes?
SP: Definitely entertainment areas, so your kitchen, living room, will be towards the rear of the house, or wherever the view might be. The second option would then also be the master suite. Now whether you want it to be the bedroom off of the balcony or the bathroom, that's kind of up to interpretation per client. But those are really the two primary focuses. After that, it really depends on the layout or the actual structure of the house and what we can accommodate with.
CL: Is it fair to say that, even in really big houses, say over 6000-7,000 square feet, people aren't doing formal living and formal dining? Is that going away?
SP: That's correct. Again, everybody's leaning towards this more casual style. It's not as formal. Everybody has a large living room, and then the kitchen kind of overtakes both, what used to the formal dining room and the kitchen is just one huge open space.   So, people are tending to go more towards large or multiple islands, instead of that secondary room.
CL: I'm going to put you on the spot. So, where are you supposed to eat Thanksgiving dinner without a formal dining room?
SP: Excellent question, it depends on how many people, but again, most of the spaces that are being created are so open. You can throw in a table at any point in time.
CL: So, your designs are leaving room for a big table too, that might not be used as much, but it's more of a feature piece than a dust collector.
SP: Exactly, instead of compartmentalizing the space, this design opens it up, and then allows for interpretation.
CL: Let's switch gears and go to kitchens. I know high bars used to be popular, but I'm not seeing high bars much anymore. When I talk to clients and get to know them before they meet with you, everybody says they hang out in the kitchen. So, how are kitchens being laid out now? Where are people hanging out? How's that working out?
SP: Again, we're seeing larger islands, bigger kitchens for sure. People are wanting to, not necessarily entertain, but cook together and be together in one spot.
CL: Let me cut you off for a second. You say larger islands, what does that mean? 14 feet? 16 feet? 20 feet?
SP: As large as possible. Right now, for example, Cambria and most other quartz slabs that come in jumbo slabs, are coming up to 10 and 12 feet long.
CL: So, it's not like the old islands that were 6 feet by 3 feet. Those were more like an ironing board, whereas this is an actual huge slab of material.
SP: Exactly. Then that allows 12 or so people to congregate around. People also used to think about the "working triangle": where it's the range, the fridge, and the sink. That doesn't really exist anymore. It's now just about making sure that there's enough space for people to walk side by side, so 48 inches from countertop to countertop. That's really more of the rubric now instead of the "working triangle".
For a while, we went away from the family dinners a little bit, and now it's starting to come back. So, people are wanting to prep together, cook together, that kind of thing. One really exciting feature in kitchens now that you can get are these huge trough sinks, which are about 6 feet long, and they have cutting boards and strainers attached to them, with 2 faucets. That's just another cool item to have in a kitchen, where you're really wanting to have that family atmosphere. To bring everybody together.
CL: In January, we were at KBIS, the national kitchen and bath show. We saw that sink, and it just made so much sense to me. It's also something that you just don't see very often, which I think is something that a lot of people want, something that nobody else has. Something that's going to make people remember their house. And you're not going to always want to bring people through your master bedroom, but they're going to see your kitchen. So that makes sense.
SP: Exactly. Of course, there's also the farmhouse sinks, the 36 inch single basin sink, which is also trending now. We tend to get into these design features that people see over and over again, so people are wanting something new and fresh. I just think that trough sink is just so cool and functional.
CL: In the design magazines that I've looked at, it seems that white cabinets are still pretty popular?
SP: It is. It's coming and going. Grey cabinets are kind of coming around too, but generally instead of it being based on just a color, it's truly the design of what your house is being architecturally modified to. Whether it's that contemporary style or British West Indies, that's what's really tailoring all of the colors. Which is the way that it should be. Everybody was going towards those white, bright, light color tones. But now, we're starting to see turquoise islands, for example. That more custom look. No matter what, you're always going to have your neutrals as your go-to's.
CL: Here's another one that seems like it's picked up steam, we've done two now, and we're about to do a third: built-in wine cellars. When I think of a wine cellar, I think of a basement with cobwebs, stone arches, dark, and hidden away. Share with us about the couple that we've done, what they look like and where they are located in the houses. Tell us a little bit about that.
SP: They're feature pieces. Our homeowners are proud of them. They're statements. One is right when you walk in the front door. It's to the left, it's well lit. It's next to this gorgeous 3 story staircase. It's a wine room, a walk-in, proper room. There's a specific cooling unit in there that they have. I don't remember the quantity that it holds, but it's a feature piece. We have another one that we've done that only holds about 120 bottles of wine, but it's encased by 3 walls of glass and there's a glass tile on the solid wall. But, it's there just for show and entertainment.
CL: They're not hidden. They're something that people are going to see.
SP: They're in plain sight. The second one is coming up a staircase, so you can't miss it.
CL: Wow, 120 bottles, I mean, that's a good start. That will stock a pretty good sized party, I would think. So, let's go to master bedrooms. Personally, we have family come all the time, and sometimes they get annoying, so, I think of the bedroom as the place to be a hermit and hide from people, and I know you like to call it a sitting area. Master bedrooms used to be a little bit bigger than the other bedrooms, how much bigger are they now? What are you seeing in master bedrooms?
SP: They're now suites. It's a place where obviously your king or California king-sized bed goes, and a couple of dressers. They also have his and her walk-in closets, which are not just enough to turn around – it's a room.
CL: You could practically cook a meal inside the closets. They have islands, chandeliers, etc.
SP: They have all custom cabinets, from floor to ceiling. Then the master bathrooms are just the crown jewel in those spaces. Depending on the client, the actual physical rooms, and then some of them are just there for the simple purpose of showering and bathing. But really, the suite aspect is just having essentially everything in one space. Some of our clients even have put refrigerators and little cooking areas in there. So it's really a whole separate suite, almost like a hotel room.
CL: Almost always, without fail, when I go out and show new clients some of the homes that we've built, and they're describing their dream master bathroom, they always say, "We need to leave space for the tub." I always then ask them if they use their master tub. 98% of the time they say, no, but we need it for resale." I know in our homes, a lot of them are being designed without a master tub. So, how many people put a tub in just for resale, and how many people have thought it through? How many say, "Well, I need this Jacuzzi tub with massaging jets and heated water?" So, do you have the same feeling as I do that less and less are wanting this big waste-of-space tub?
SP: Right now, the point of the tub is a design feature, along with the resale value. Unless you want one of those therapeutic jetted tubs, they're never going to be used. It's more of a design feature, where people see pictures, and then they want the slipper foot tub, the claw foot tub, and then that's what they have their heart set on, whether they're going to use it or not.
CL: Right, we did a home in North Redington Beach, and it has 3 master suites, a couple of guest bedrooms, and no tubs. These are people that have built homes in the past, and their thoughts were, "At this amount of money, the whole thing's probably $3,000,000 with land, if somebody's going to buy this house, and they can afford this house, then if they want to add a tub, they can add a tub." So, what she did was, she made the bathrooms big enough where you could put a tub in it. Just personally, I'm not a tub guy, and I don't see it as a thing that people need. For us, having kids, we always throw one into a guest bath. But, that trough kitchen sink that you were talking about, it's 6 feet wide. I mean, a tub's only 5, so you could just put your kid in that thing.
SP: That's right, and most of our clientele don't have young kids. It's like I told my husband the other day, he wanted me to buy a minivan because we're expanding our family, and I just asked him, "Why? We would only need a minivan until they're old enough to get in and out of the car easily on their own. I'll take my SUV. Thank you." Same thing with a tub, it's a short-lived thing, unless you, as a person, love taking baths.
CL: If you had $1,500,000 to spend on building a house for you and your family, what style would it be? Tell us about the outside. Give us a little dissertation on what that would look like.
SP: It's always harder for yourself. Honestly, I do love the British West Indies. I think that is perfect. So, the outside would have a high contrast in colors. I would have dark window trimming, with a white house. I might have a little bit of a grayer tone, but more or less white. I would have a dark front door. The exterior corbels would be simpler, but really tall. Then the roof, again, would be dark, to go along with the other trimming. Definitely a metal roof. After doing a bunch of research, that's the best way to go, spend the money. As far as decorative, other than the corbels, just very simple. It would have exterior stucco, and the garage doors would be dark, but then would also have a little bit of texture, whether that's a wood grain or painted. Other than that, there would be landscaping and a linear pool.  It can be a lap pool or just a normal pool. You don't need a bunch of curves in a pool. For the deck, though, I would actually do a porcelain paver. They have come out with really large format porcelain pavers that require no maintenance compared to a natural stone, and they stay cool. The decking material would be where I would spend my money.
CL: So, let's say it's one out here on the beach. It's on a lot where the bottom level needs to have some parking and storage space. Now on the next level, would you do everything you can? Or would you need 2 levels? What do you visualize? What's your feeling?
SP: Having an 18-month-old, I really want one level. Any type of new build I would do would be one level, if the lot can allow. My primary focus on the main level, would be making sure that I have enough room to entertain family, and that I can cook and be with everybody all at once. So, the rooms might be a little bit smaller as far as bedrooms are concerned, only because no one's in there, when it's just me and my family.
CL: When they come to visit, you don't want them to get super comfortable. I always say, that I don't want it to be so big that they're going to unpack. I don't want people unpacking. No drawers. Don't unpack. Live out of your suitcase. Make it a little bit tough. Don't make it too nice.
SP: So, really having that all open, but then practically compartmentalized. Laundry room out of the way, plenty of storage as far as closets are concerned. That's one thing down here in Florida, all the old houses have no closet space.  Also, a lot people are moving from somewhere up north, where they have 3,000 square foot basements. Then they come here, and they don't know what to do. They say, "What is this?" They end up selling it.
CL: So, tell us what helps you? What makes the process easier, smoother, and better for a client? What are things that they should be doing and thinking about and planning for, that would make the whole process easier?
SP: Well, having an idea of your style, and most of the clients I work with are already there. They already know what they like and don't like. You know, there's a lot of stuff that goes into a home, not just your appliances, cabinetry, that kind of thing. Really, Pinterest is a great tool. But people do need to know that everything on Pinterest is not exactly economical. So, going in, knowing that, and taking it with a grain of salt. Knowing, "Okay, well I like this layout but I don't like this color." Things like that.
CL: For example, they say "I like this crazy herringbone wood floor that has 2 foot pieces, and it's only $6 a square foot." Then you show it to our estimator, who prices it and says, "That's going to take six weeks to install because there are 50,000 cuts, Is that the kind of stuff you're talking about?
SP: Exactly, and they can have that floor, we can do it.
CL: Or, maybe you'll suggest, "We can achieve the same look if we run a board down the center, and met it at 45 degrees, or do it at an angle, or something else instead." We can do some value engineering to achieve the look they want, without breaking the bank. So, having a Pinterest that's organized, where they can organize their thoughts, their ideas, and their inspirations, that's what's going to make it better for you?
SP: Also, most people already know what kind of appliances they want. They know if they want gas or electric. Or if they want a 48 inch range or a standard 30 or 36. That kind of stuff is nice and easy. But, at least for me, the communication between translating your style to me can be tricky. Because they can say British West Indies, but really mean Dutch West Indies, just because there's no context. Probably a closer one would be Key West and British West Indies. So, having those images, having those conversations, are key to making it a smooth design process.
CL: Awesome. Well, thanks for your time today. I learned some stuff. I learned that I get to do my cool bridge. Again, thanks for your time.